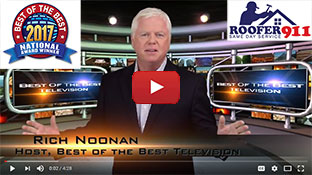 Sterling Roof Repair
SUPERIOR WORKMANSHIP AND GUARANTEED SATISFACTION!
Common Services
in Sterling

| | | |
| --- | --- | --- |
| | | |
| Our infrared image shows wet insulation trapped inside the wall caused by an ice dam buildup in the gutter. | | |
| | | |
| Highly skilled roofer from Roofer911 repairing a roof valley leak because of nails being fastened to close to the centerline. | | |
| | | |
| Having properly pitched gutters is extremely important in preventing severe water damage inside your home, structural damage and mold development. | | |
| | | |
| See hanging or missing aluminum trim in Sterling, Virginia is very common because of improper fastening procedures. Our siding repairs will withstand winds up to 100 mph or more. | | |
| | | |
| Bay windows or sometimes referred to as bumpout windows can leak for a number of reasons. We guarantee to stop your window leak without having to replace your window. | | |
Sterling is a thriving community built on land that was once known for experimental farming. It's interesting that now it is the home for the National Weather Service Weather Forecast Office. In this part of the country, the weather is an important subject for home owners. Although we have a mild climate with hot, humid summers and relatively gentle winters, the elements do quite a bit of damage to a house. This is the main reason we cannot neglect roof repairs and the necessary maintenance to help protect our homes from the weather.
What happens when you neglect to take care of your roof?
| | | |
| --- | --- | --- |
| | When tree branches rub against your shingles they wear away the granules that help keep your roof waterproof. | |
| | If an inexperienced roofer nailed the shingles too high on the tabs, they tend to break off in the wind, leaving sections of the roof exposed to the rain. | |
| | Are there a lot of trees around your house that shed their leaves? The accumulation of organic materials in the roof valleys decompose and create enzymes that break down the adhesives in the shingles. | |
| | Sunny weather is just as harmful to your roof as rainy days. Exposure to UV rays causes the roof sealants around vent pipes to shrink and crack, leaving gaps where the rain can get in. | |
| | Humidity can be very destructive. Too much moisture in the attic due to poor ventilation creates the perfect environment for black mold to flourish. Then it spreads like wildfire. | |
| | Overflowing gutters dump water around the foundation of your house. This is why a basement floods when it rains. | |
Let's talk about ice dams!
An ice dam is a ridge of ice that forms at the edge of a roof and prevents melting snow or water from draining off the roof into your gutter. As the melting-freezing cycle continues, it is common for the melted water to back up under the roof shingles. This is how you can have a roof leak in the middle of winter, and it's a common problem in Sterling when it snows.

What can be done to prevent ice dams?
Make sure your attic is well insulated to help stabilize the attic temperature. It also needs to be ventilated properly to allow rising heat and humidity from the rest of the house to escape. Too much heat in the attic causes the snow on the roof to melt. It runs down to the edge of the roof, where it freezes, forming a ridge or dam that prevents the roof from draining.
How much will it cost to fix my roof?
The real question is, "How much will it cost if you don't fix a roof leak now. There are many variables involved in the actual cost to repair a roof, depending on what we find. The length of time a leak continues to do its nasty deed directly affects the cost of repairing the water damage.
Finding a problem early makes fixing it much easier, and cheaper. This is true for any home maintenance issue. If you wait until you can visibly detect the signs of a leak on the ceiling, walls or around windows, you have a very serious problem on your hands. If you schedule a roof inspection at least annually, then minor problems can be averted long before they get out of control. Taking care of roof repairs on your Sterling home now means saving money, because it will add several more years to the usefulness of your roof. It will increase the energy efficiency of your home and help to maintain a comfortable interior environment.
Working with the city of Sterling has always been a pleasure; we gladly will help all our clients meet city ordinances and zoning concerns. Visit your local building and permitting department at http://www.loudoun.gov
Serving the following zip codes: 20163, 20164,20165, 20166, 20167
Our Complete Range of Roofing Services in Sterling, VA include:
Leave Your Comments
Read Ratings & Reviews Posted By Homeowners in Sterling Virginia, VA for Roof Repair & Installation
34
user reviews with an average of .
Total of
Leave Your Comments
Recent Free Roofing Estimates Requested from Roofer911
Type of Service: Other
Date Submitted: Monday, February 29, 2016 - 2:30 PM
City: Sterling
State: VA
Customer Type: Repeat Customer
Description: As per our conversation, appointment set for tomorrow, March 1st before 2:00 ~ Repair roof line flashing and soffit plus gutter repair work



Type of Service: Roof Repair, Not Emergen
Date Submitted: Sunday, February 28, 2016 - 5:53 PM
City: Sterling
State: VA
Customer Type: First Time Customer
Description: Questioned roof leaking around the satellite dishes placed



Type of Service: Roof Repair, Not Emergen
Date Submitted: Saturday, December 7, 2013 - 9:32 AM
City: Sterling
State: VA
Customer Type: First Time Customer
Description: Spoke to Steve a few minutes ago and he set up an appointment with me for tomorrow (12/8/13). We noticed this morning a water stain in our upstairs bathroom ceiling which appears to be coming from the roof. Our home is a 3 story town home. Access to the roof may be difficult.



Type of Service:
Date Submitted: Saturday, April 27, 2013 - 3:17 PM
City: Sterling
State: VA
Customer Type:
Description: I live in a town house. I have lost some shingles in the past year. I bought the town house one year ago.



Type of Service: Other
Date Submitted: Thursday, May 31, 2012 - 8:42 AM
City: Sterling
State: VA
Customer Type: First Time Customer
Description: hi, i just talked to you a moment ago. i need to replace the seal around the sewage pipe.... the small pipe on the left if you're standing in the back of my house. please let me know how much it will cost. thank you