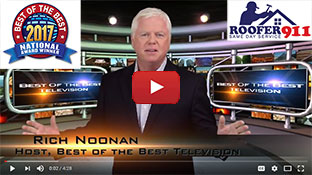 Purcellville Roof Repair
SUPERIOR WORKMANSHIP AND GUARANTEED SATISFACTION!
Common Services
in Purcellville

| | |
| --- | --- |
| | |
| Our highly sensitive infrared camera detects a hidden roof leak (blue color is moisture) that was originating from an improperly installed ridge vent at the peak of the roof. | |
| | |
| Roofer911 provides fast and professional roof repair services for all areas of Purcellville, VA. Done once...done right! | |
| | |
| Need a new roof installed? Call the pros at Roofer911, you'll be very plead you did! | |
| | |
| Are your gutters sagging anywhere outside of the downspout? If so, it's very likely water is overflowing backwards and inside your home which can lead to mold. | |
| | |
| Missing aluminum fascia? If so, our repairs will withstand winds up to 100 mph or more. Send us a picture of your problem to /photo-quote/ and receive and instant price in minutes! | |
Many of the older homes in Purcellville are reminiscent of the Victorian style of architecture that was once quite popular. Regardless of the style of a home, everyone wants to have a safe and secure roof over their head. Why? Your roof, not only protects your family inside from the harsh weather, but it also ensures that your property inside is safe. Therefore it is very important that your roof is regularly maintained. Roof repairs should be completed quickly before the damage can cause more costly repairs on the inside.
Completing Your Roof Inspection
It is sensible to inspect your roof after every major weather event. Get to know your roof when it is in good condition. It is easier to identify any problems on it. Having a professional inspection a couple times a year is highly recommended. Although you will be able to see certain issues visibly, there are some problems that remain hidden in the distant recesses of a house. Here are steps you can take to be proactive:
| | |
| --- | --- |
| | Check your shingles. Granule loss becomes more significant when your roof is old. In order to know whether your roof is "shedding", you have to check your gutters. You will be able to instantly see the amount of granule loss. |
| | Look for shingles that are curled up at the edges, broken or simply not there anymore. |
| | Check on the inside of your home for signs of water damage in the ceilings, walls, around windows and near skylights. |
| | In the cold weather, check for icicles forming on the edge of the roof. This is an indication that you don't have enough ventilation in your attic. |
| | Listen for the sounds of wild critters romping around in the attic. |
| | Look around the foundation of the house after a rainstorm to see if excessive pools of water have formed that don't drain away from the house. |
| | atch for mildew and black mold growing on the walls, ceilings or baseboards. |
How Much Will It Cost?
When you find something suspicious during your roof and gutter inspection, you may have a roof leak. Inspect the interior and look for any water stains that extend across ceilings or run down walls. You should then get the repairs done immediately. By the time you notice these things, the hidden water damage could be extensive. Over a short period of time, small leaks can lead to big problems, such as mold, rotted framing and sheathing. Leaking roofs destroy your attic insulation and can damage your ceilings. FYI, wet insulation loses R-value, and your energy costs go up. The overall cost to fix a leaky roof is determined by the amount of damage that exists.
How Long Will It Take To Be Completed?
The length of time it takes to
repair your roof
normally depends on the size, pitch, weather conditions and accessibility. Repairing a typical roof leak can take as little as a couple hours. Thorough roof maintenance can take a few hours, and can include things such as re-sealing all vents and cleaning out your gutters. Removing any debris, clearing away tree branches and checking roof for random penetrations, cracks, and damages should be taken care of as well. It all depends on the source of the leak, the size or complexity and the extent of the damage that has taken place already.
How Long Will My Roof Repair Last?
When you are diligent your roof can last for 10 to 15 years or more. This depends on spotting and correcting small roof repairs before they become larger issues. Because the climate is such a major factor for home owners in Purcellville, it pays to do all you can to keep your roof in top notch condition.
For information regarding Purcellville's Building and Zoning laws please visit theit website at: http://www.purcellville.com.
Serving the following zip codes: 20132, 20134
Our Complete Range of Roofing Services in Purcellville, VA include:
Leave Your Comments
Read Ratings & Reviews Posted By Homeowners in Purcellville Virginia, VA for Roof Repair & Installation
Leave Your Comments
Recent Free Roofing Estimates Requested from Roofer911
Type of Service: Emergency Roof Repair
Date Submitted: Wednesday, March 4, 2015 - 7:01 PM
City: Purcellville
State: VA
Customer Type: First Time Customer
Description: 20 Ft Ceiling in Family Room, discovered several water stains and a steady drip coming from the ceiling at 8:30pm Wed night. Please call before arrival Thursday. Thank you.



Type of Service: Other
Date Submitted: Friday, February 14, 2014 - 5:01 AM
City: Purcellville
State: VA
Customer Type: First Time Customer
Description: Palladine window leak above front door and wood damage



Type of Service:
Date Submitted: Monday, September 9, 2013 - 8:01 AM
City: Purcellville
State: VA
Customer Type:
Description: We have a leak around the bay window roof in our dining room. Water has destroyed some of the drywall on the ceiling inside the dining room.



Type of Service: Emergency Roof Repair
Date Submitted: Sunday, November 27, 2011 - 4:52 PM
City: Purcellville
State: VA
Customer Type: First Time Customer
Description: Need a new roof vent pipe rubber gasket replaced. Also need roof dryer vent installed plus other roof vent gaskets inspected for possible replacement. Supplying the roof dryer vent.