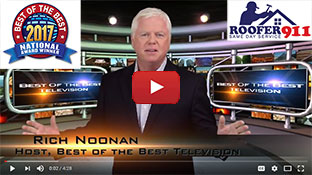 Roof Repair Potomac Falls, VA
SUPERIOR WORKMANSHIP AND GUARANTEED SATISFACTION!
Five Factors that Affect your Roofs Life Expectancy
Whether you live in Potomac Falls or elsewhere in the North Virginia area, an asphalt shingle roofs life expectancy can range anywhere from 10 to 25 years. As severe weather conditions and other unpreventable roofing damages occur,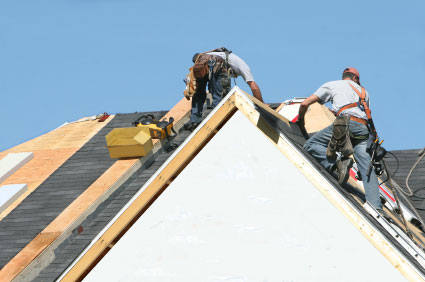 it shortens that lifespan considerably. When choosing an asphalt shingle for your roof, be sure to choose a high quality shingle to extend your roofing systems life expectancy as long as possible.
While the uncontrollable forces of Mother Nature are inevitable, there are many reasons why your roofs lifespan may be shortened. Learn these five factors that affect your roofs lifespan and you can better help prevent costly damages to your roofing system. If you discover any of these lifespan shortening symptoms on your roof, be sure to call Roofer911 at (703) 475-2446 or send us an email at Roofer911@gmail.com and we'll send a qualified roofer to inspect your roof and repair any concerns you have right away.
UV Exposure
Sunlight degrades nearly every material and that includes your asphalt shingle roof. Shingles that are exposed to direct sunlight for the majority of the day will not last as long as those shingles that are in the cover of a shadow part of the time. While tree debris and leaf litter can cause premature decay in roofing materials if it is allowed to accumulate on its surface, trees can help to cover your roofing system from the effects of harmful ultraviolet rays. Signs of heavy UV exposure include stiffing of the shingles, missing granules and brittle tabs. If you think your roofing system needs to be repaired due to UV damages, call Roofing911 at (703) 475-2446 for your free estimate today.
Roof Slope
Your roofs slope can affect your shingles lifespan significantly. The steeper the slope, the easier it is for water to runoff. When a shallow sloped roof is shingled, the water is allowed to stand on the shingles surface for longer periods of time. When water is allowed to settle on shingles, it's an invitation for decay. Mold and mildew can easily build up and degrade shallow sloped roofs quicker than steeper slopes.
Ventilation
The proper ventilation in your attic can help to extend your roofs lifespan. An attic space can reach temperatures well in excess of 150 degrees. With the correct roofing vents, your roofing substrate stays cooler, keeping the underside of your shingles as cool as possible. This prevents shingles from curling and cracking prematurely. If you suspect your attic ventilation is inadequate for your home, call Roofer911 today at (703) 475-2446 or send us an email at Roofer911@gmail.com for a free, no obligation attic ventilation estimate today.
Adverse Weather Conditions
In areas of severe wet weather and extreme cold/hot conditions, asphalt shingle life expectancy is shortened. Severe cold and heat can make shingle surfaces contract and expand, causing cracking and breaking in thinner shingle surfaces. Even though it's impossible to prevent the adverse weather conditions that affect Potomac Falls Virginia, you can still extend your roofs lifespan by performing biannual roofing inspections twice a year to check for potential damages. Call Roofer911 today at (703) 475-2446 for a free biannual roof inspection.
Manufacturing/Installation Defects
Many times, the materials themselves or the way they were installed can affect the lifespan of your asphalt shingles. For instance, if not enough fiberglass was used in the shingle, it could prematurely split, crack or break. When manufacturing concerns are an issue, check your roofing materials warrantee information for more details on covering the cost of repairs. Installation defects such as not enough nails per shingle can cause problems with your asphalt shingle roof when strong winds or storms blow into the area. If you suspect your roof may be damaged due to manufacturing defects or poor installation, call Roofer911 at (703) 475-2446 or send us an email at Roofer911@gmail.com for a no cost inspection of your roofing materials.
For more information on building and development in the Potomac Falls area, visit http://www.loudoun.gov
Serving the following zip codes: 20165
Our Complete Range of Roofing Services in Potomac Falls, VA include:
Leave Your Comments
Read Ratings & Reviews Posted By Homeowners in Potomac Falls Virginia, VA for Roof Repair & Installation
2
user reviews with an average of .
Total of
Leave Your Comments
Recent Free Roofing Estimates Requested from Roofer911
Type of Service: Emergency Roof Repair
Date Submitted: Thursday, January 5, 2012 - 11:15 AM
City: Potomac Falls
State: VA
Customer Type: First Time Customer
Description: ned to determine the source/cause of damage



Type of Service: Roof Repair, Not Emergen
Date Submitted: Tuesday, November 8, 2011 - 11:00 AM
City: Potomac Falls
State: VA
Customer Type: First Time Customer
Description: Steve, I spoke to you on the phone today. We have an appointment tomorrow between 1 and 3PM at my home. Leaks in bow window, skylight, and two others that I know of. Thank you so much for taking my call. I will see you tomorrow.