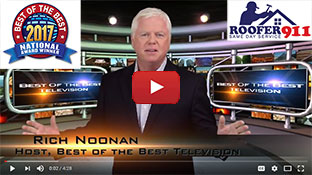 Roof Repair Hillsboro, VA
SUPERIOR WORKMANSHIP AND GUARANTEED SATISFACTION!
Asphalt Shingle Maintenance 101
A typical asphalt shingle roof lasts about 10-15 years. With the right maintenance and care, you can extend your roofs lifespan up to 25 years and prevent future roof repairs and replacement. Use this guide to asphalt
Free Infrared Roof Leak Detection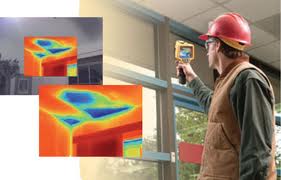 shingle maintenance and you'll be sure to make your Hillsboro, Virginia roof last as long as possible.
• Cleaning - Roofer911 recommends you keep your homes roof free and clear from all debris. When leafs, tree branches and other debris finds its way onto your roof, roof leaks are just waiting to happen. Tree litter can quickly build up on roofs around plumbing pipes, vents and valleys as well as behind chimneys, skylights and flashings. If plant material is allowed to decompose on your roof, mold, rot and decay can quickly damage shingles and cause your roof to leak.
• Flashing - Your roof involves more than just asphalt shingles. Metal flashing also prevents water from entering into your home. Metal flashings are susceptible to weather damage, decay and aging so they need to be inspected along with your asphalt shingles twice a year. Inspect your metal flashings for signs of rust, discolorations or other physical damages to prevent future roof leaks from taking place. If the flashing behind chimneys, against walls and in valleys shows any signs of problems, immediately call Roofer911 today at (703) 475-2446 and we'll send one of our experienced roofers to find and fix your roof flashing problems the same day.
• Ventilation - Besides inspecting the flashings, roof vents and other roofing penetrations should be looked at twice a year to prevent future roof leaks. But besides the exterior of your roof, the interior of your roof must be checked as well. Without the right attic ventilation, ice dams can form in the winter and mold or mildew can grow in the summer. When extreme heat is allowed to build in the attic spaces, it can easily damage shingles from underneath as well. If you believe that your attic may not be properly ventilated, be sure to call Roofer911 today at (703) 475-2446 for a free infrared thermal scan and roofing ventilation fan estimate and you'll see why we are Hillsboro, Virginia's premier roofing company.
• Gutters - Checking your gutters for debris build up and damages are a great way to prevent roof leaks. Many roof leaks are caused by gutter problems and can be easily remedied with a thorough cleaning of gutters and downspouts. When cleaning your gutters, look for signs of shingle granules in the gutter channels. Too many granules could mean your roof is taking heavy UV damages and may need to be repaired or replaced. Gutters that are sagging or hanging oddly can also be signs of trouble. If you suspect your gutter system may be the cause of a future roof leak; don't wait before it's too late. Call Roofer911 today at (703) 475-2446 or send us an email at Roofer911@gmail.com and we will send a qualified roofer to your home for a free inspection and no obligation roof repair estimate today.
• Siding - Roofer911 recommends that you inspect the exterior of your home as well as the roof twice a year before stormy summer seasons and wet winter weather come rolling into Hillsboro Virginia to prevent future home and roof repairs. Siding should be inspected along with your roof as this can be the cause of many leak problems if siding is left to its own devices. Check your siding often for cracks, splits or decay. If you spot any missing, damaged or questionable pieces of siding on your home, don't hesitate to call Roofer911 today at (703) 475-2446 for a free inspection of your siding and we'll be sure to pinpoint and repair any potential siding problems you may have.