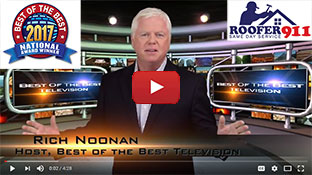 Roof Repair Broadlands, VA
SUPERIOR WORKMANSHIP AND GUARANTEED SATISFACTION!
Roof Repair and Siding Repair Specialist in Broadlands, VA
Broadlands, Virginia is a beautiful place for couples, singles and families alike. With a location near the DC area, this planned community is prime real estate that allows residents to escape the hustle and bustle of busy city streets. You can see the pride that the community takes in the upkeep of their homes as many homeowners in the area perform routine maintenance to protect their investments.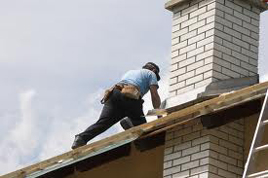 But when storm damages happen, it's more than just an unsightly blemish. It can be a serious problem that allows moisture and other elements into the home, potentially causing even more severe damages. When you have an emergency roof repair in the Broadlands area, give Roofer911 a call today at (703) 475-2446 or email us at Roofer911@gmail.com for a free, no obligations estimate and you'll be on more step closer to repairing your home as quickly and efficiently as possible before more severe damages have a chance to occur.
When your roofing, siding or windows are damaged from severe weather conditions, it's a good idea to find a contractor to immediately repair the damages. But how do you know who to hire when you don't have the time to do a thorough background check on possible roofing contractors? Ask yourself these important questions before you hire a roofing contractor and you can be sure you're going to get the best roofing contractor for your emergency roof repairs.
• Are they licensed and insured?
Knowing if your potential roofing contractor is both licensed with the state and has the proper workers compensation and liability insurance, you can rest assured knowing that they will conform to all state and local building codes. Hiring licensed and insured roofing contractors also ensures you get the proper permits so you don't get stuck with heavy fines from the building department. A quick call to your local building department can give you peace of mind in knowing your potential roofing contractor has the right licensing and insurance. Best of all, you'll know for how long they've had them, so you can better find a more experienced roofing contractor for your roof repair.
• What warranties and guarantees will the roofer provide?
You should accept no less than a warranty on the labor that matches the warranties on the materials. After all, even the best roofing materials are only as good as the roofer that installs them. Same day service guarantees also ensure that you're going to get your roofing repairs completed immediately so that roofing damages don't have a chance to compound further. Roofer911 offers same day service guarantees, so that as soon as you sign your contract, we'll start work on your roof repair and it will be completed in two days or less. We also warranty our labor to match your materials warranties, ensuring you get the maximum coverage if something should go wrong. Give Roofer911 a call today at (703) 475-2446 and let one of our qualified roofers give you a free estimate on your roofing repair emergency.
• Will they work with my insurance company?
When storm damages occur, more often than not, you're going to make an insurance claim. But when you've got the hassle of cleaning up debris, working with a roofing contractor and managing your day-to-day affairs, dealing with an insurance adjuster isn't going to make life any easier. That's why here at Roofer911; we work directly with your insurance company's agent and adjusters to ensure your roofing repair goes as smoothly as possible. So what are you waiting for? Call Roofer991 today at (703) 475-2446 for your free no obligations estimate and find out for yourself why we are Broadlands premier emergency roofing repair service.
Visit our website, as well as, the Broadlands Homeowner's Association at www.broadlandshoa.org for information regarding roof repair and renovation to your Broadlands home. Together, we can ensure that your investment is protected; as well as, your loved ones.
Our Complete Range of Roofing Services in Broadlands, VA include:
Leave Your Comments
Read Ratings & Reviews Posted By Homeowners in Broadlands Virginia, VA for Roof Repair & Installation
4
user reviews with an average of .
Total of
Leave Your Comments
Recent Free Roofing Estimates Requested from Roofer911
Type of Service: Emergency Roof Repair
Date Submitted: Thursday, March 5, 2015 - 6:22 AM
City: Broadlands
State: VA
Customer Type: First Time Customer
Description: Roof leaks during heavy rains. Need to get checked.



Type of Service: Emergency Roof Repair
Date Submitted: Sunday, February 22, 2015 - 11:08 AM
City: Broadlands
State: VA
Customer Type: First Time Customer
Description: Water stain on bedroom ceiling from leaky roof.



Type of Service: Roof Repair, Not Emergen
Date Submitted: Saturday, February 15, 2014 - 7:51 AM
City: Broadlands
State: VA
Customer Type: First Time Customer
Description: small snow leak from roof to attic, then water stain seen on roof.



Type of Service:
Date Submitted: Monday, January 14, 2013 - 7:35 AM
City: Broadlands
State: VA
Customer Type:
Description: Found a couple shingles around the house that may have been blown off our roof. From what I can see from the ground I can't see where they came off. Not 100% sure they came off our roof or a neighbors. Would like someone to check it out.



Type of Service:
Date Submitted: Thursday, November 29, 2012 - 2:42 PM
City: Broadlands
State: VA
Customer Type:
Description: Need repairs on garage and living room bay window roof