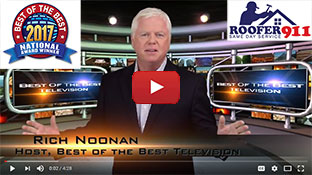 Roof Repair Brambleton, VA
SUPERIOR WORKMANSHIP AND GUARANTEED SATISFACTION!
Same Day Service for Emergency or Non-Emergency Roof Repairs
When roofing disasters strike your home in Brambleton, Virginia, you don't have time to waste checking credentials and references.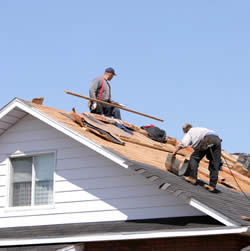 So how do you know a reputable roofing contractor from a bad one during an emergency roof repair? You don't unless you answer these basic questions before hiring a roofing contractor to repair your roof. Because without the right roofing contractor for the job, you might find your roof repairs to be inadequate, your money gone, and the roofer is nowhere to be found. Whether you need an emergency roofing repair or you just want to change to look of your home, call Roofer911 at (703) 475-2446 for a no obligation, free estimate today for the ultimate in home improvement satisfaction.
• Do They Have the Right Licensing and Insurance?
No matter how big of a hurry you may be in when your roof is damaged, it's always important to check that your potential roofer has the proper licensing and insurance. This way you won't have any problems with shoddy workmanship or building department fines. A quick call to the Brambleton building department can let you know if your potential roofing contractor is licensed, insured and best of all—for how long they've held their license. Here at Roofer911, we've been in the roofing industry for nearly 40 years. Give us a call today at (703) 475-2446 for a free estimate and find out why we're Northern Virginia's premier roofing repair contractor.
• Are they Compatible with my Insurance Company?
One of the biggest problems with finding a good roofer in Brambleton, VA. for an emergency roof repair is the insurance companies. Let's face it: It's already bad enough when your home is struck by a disaster and your roof is damaged; why would you want to deal with a roofing contractor who has trouble dealing with insurance claims adjusters? At Roofing911 we are happy to deal directly with any insurance company fast and effectively so that we can help you to get your home repaired and you on your feet as quickly as possible.
• How Fast Can They get it Done?
Many roofing companies may promise that they'll fix your roof as soon as possible. When roofers are already backed up during the wet parts of the year, it could take weeks or even months to get them to repair your roof, leaving it damaged and vulnerable to the elements. At Roofer911, we solve your roofing dilemma as quickly as possible with our emergency roof tarp and same day repair service. We guarantee that when you sign your contract, Roofer911 will repair your emergency roofing damages within seven days. When you need fast work that doesn't scrimp on quality, then call Roofer911 at (703) 475-2446 for a free estimate for your emergency roof repairs.
• What Warranties or Guarantees do they Provide?
Your potential Brambleton Virginia roofing contractor should be able to provide you with some form of warranty or guarantee on their services and materials. When emergency roof repairs are critical to keeping water damage from plaguing your home, a guaranteed same day service and a warranty on labor that matches the materials you are installing are the only way to ensure your roofing system is protected in case of future failure. Without these standards in place in the signed contract, you are potentially placing yourself at risk for serious trouble if roofing materials fail. Roofer911 offers same day service and matched warranties on the materials you buy for your roof. So what are you waiting for? If you have an emergency roof repair or you're just looking to change the way your home looks, call Roofer911 at (703) 475-2446 or email us at Roofer911@gmail.com for a free no obligations estimate today!
Serving the following zip codes: 20148
Our Complete Range of Roofing Services in Brambleton, VA include:
Leave Your Comments
Read Ratings & Reviews Posted By Homeowners in Brambleton Virginia, VA for Roof Repair & Installation
Leave Your Comments