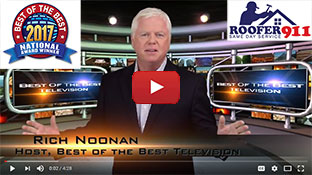 Roof Repair Warrenton, VA
SUPERIOR WORKMANSHIP AND GUARANTEED SATISFACTION!
Why your Roof may Leak in the Winter
If your roof is leaking; but only in the wintertime months, you may be wondering—what gives? The answer to your question is a simple one, but with multiple problems and solutions. If your home has winter ice dams,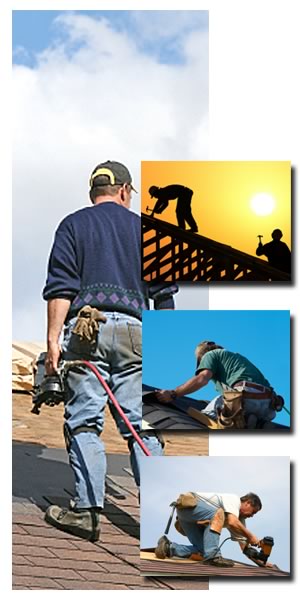 poor attic ventilation or problematic gutter systems, it could be a cause for wintertime leaks. Curing theses wintertime roof leaks starts with understanding how they happen in the first place. If your home is plagued with wintertime roof leaks, it can be much more serious than the occasion icicle falling. If your home has wintertime roof problems; don't wait until it's too late. Call Roofer911 today at (703) 475-2446 or send us an email at Roofer911@gmail.com and we will send a qualified roofer to your home or business for a free inspection of your wintertime roofing dilemma and you'll see why we are Warrenton, Virginia's premier roofing company.
• Ice Dams - When cold winter weather sets in and snow begins to accumulate on roofs and trees, it sets up conditions ripe for ice dams to form. As snow settles and builds on your roof, it creates an insulative blanket. In the attic space, hot air from poor insulation leaks into the attic where it rises and heats the roof deck from underneath. It then raises the temperatures of the shingle and melts the snow on the roof. When the water runs off of the roof and it reaches the colder overhang of the roof, it refreezes and creates and ice dam. This can allow water to back up inside of the home and create a roof leak. Prevent ice dams before they happen with a free attic ventilation inspection from Roofer911. Give us a call today at (703) 475-2446 and we will inspect your attic, walls and ceiling for ventilation problems and insulation weak spots using our state of the art infrared detection cameras.
• Gutter Problems - Wintertime roofing leaks can easily be caused by damaged and malfunctioning gutter systems. If gutters are installed with the improper slope, they can easily cause water to back up behind eaves and drip edges when stationary water freezes in the wintertime. Clogged gutters can also severely affect water drainage in your gutter systems. Roofer911 recommends you receive a biannual roofing inspection to ensure gutters, eaves and the rest of your roofing system are in good shape before heavy winter and summer weather conditions prevail.
• Cracked Sealants - There are a number of sealants that are used around plumbing pipe penetrations, flashings and drip edges to maintain a waterproof bond between the roof deck and the roofing materials. Tar, butyl and caulking can all crack, become brittle and decay over time. Severe wet weather conditions can affect these roofing sealants as well, creating the need for roofing repairs or replacement. When looking for signs of damaged sealants, look for discolorations, streaking and yellowing materials. If you spot any of these signs, you may be ready for roof repairs. Call Roofer911 at (703) 475-2446 for a free, no obligation quote on your wintertime roof repair.
• Siding - Sometimes a roof leak isn't really a roof leak at all. Siding, doors and windows are all susceptible areas to wintertime leak problems. Whether you have wood or vinyl siding, checking your homes siding for damages and disrepairs are crucial to it holding up through cold winter conditions. If siding is cracked, split or broken, it can easily allow moisture to enter the damaged space. Once it is allowed to freeze and thaw, it contracts and expands, making the problem area larger and more susceptible to leaks. Call Roofer911 at (703) 475-2446 today for a free inspection of your siding, roof and windows to prevent wintertime leaks before they have a chance to start.
Recent Free Roofing Estimates Requested from Roofer911
Type of Service:
Date Submitted: Saturday, October 12, 2013 - 10:26 PM
City: Warrenton
State: VA
Customer Type:
Description: We have a leak in our roof. The roof was replaced in 2012, so we believe there is hopefully only one leak (that was discovered with these bad rains)... the drywall in the ceiling is very moist, so I have a fan up there now. I would be interested in an inspection, a repair of the leak, and repair of the ceiling drywall... the sooner the better.