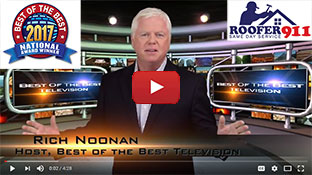 Roof Repair Culpepper, VA
SUPERIOR WORKMANSHIP AND GUARANTEED SATISFACTION!
Roof Repair and Ice Dam Prevention in Culpepper, VA
When ice dams occur, it's more than just a dangerous way to get hurt from falling icicles; it's also destroying your roof in the process and setting up the perfect conditions for a roof leak. Whether you live in Culpepper, Virginia or you live elsewhere in the
Roof Repair and Ice Dam Prevention and Removal in Culpepper VA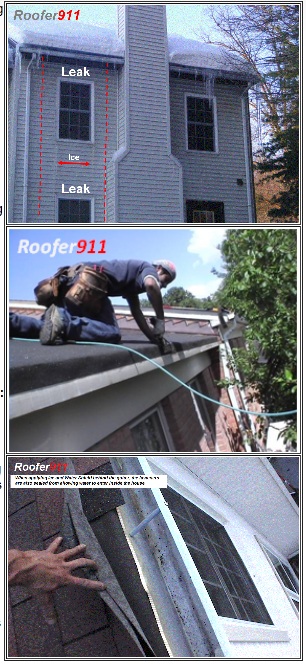 North Virginia area, you can be sure snowy and icy conditions will prevail during part of the year, so removing ice dams are sure to be a big concern during the winter. Roof rakes can take care of the problem temporarily, but climbing on a ladder in the winter time can be extremely dangerous. By preventing ice dams before they begin, you can rest assured knowing your roof will be safe from future damages and roof leaks. Use this guide to preventing ice dams and you can be sure you're going to have an ice-free roof this winter.
How Ice Dams Form
The only way to cure and prevent ice dams from occurring is with the proper attic ventilation. To understand how ice dams can be cured, you first must understand how they are formed. Ice dams are formed as hot air from the home leaks into the attic space due to improper insulation. Hot air rises to the underside of your roofing deck where it becomes trapped and heats the underside of the shingles. The warming shingles melt the trapped snow on the roof. It then runs off towards the edge of the roof where here it refreezes and creates the ice dam that is visible on the edge of the roof. As water continues to melt and refreeze, it builds up an icy barrier that can prevent water from running off of the roof, causing it to enter the home. By making the attic air the same temperature as the outside air, you prevent the thawing and freezing process that creates ice dams.
Attic Ventilation
The right attic ventilation starts with the intake air. Soffits and gable vents provide your home with the proper air intake so that an attic roof deck can be properly ventilated. If your soffits are damaged or blocked, attic ventilation won't happen as planned, creating ice dams on your home and possible roof leaks. As air moves up the rake of your roof deck, it must escape out of the top of the roof. A ridge vent is used to alleviate the excess hot air that rises from the soffit and up the roof line. Sometimes, an attic fan may be used to help circulate air intake and properly keep attic temperatures stable during winter and summer months. If you think your attic ventilation needs amends, don't hesitate before a roof leak occurs. Call Roofer911 today at (703) 475-2446 or send us an email at Roofer911@gmail.com so we can send a qualified roofer to your home or business for free inspection and estimate of an attic fan installation.
Attic Insulation
With all of that cold air coming into your attic, you may be wondering whether or not it's going to come into your home as well. Without the right attic insulation—it just might. When hiring a roofing company to ensure your attic is well ventilated, be sure they also do a good job at preventing the attic air from entering the home. Here at Roofer911, we ensure that your home is going to be well protected against the elements. We use a state of the art thermal imaging camera to detect your homes insulation weak spots. Once we target specific areas that need insulation, we add new insulation to fix the problem so you can keep your home warm and toasty, your attic well ventilated and your roof free from ice dams. If your home has ice dam problems; don't hesitate before it's too late. Call Roofer911 today at (703) 475-2446 or send us an email at Roofer911@gmail.com for a no cost, no obligation inspection and estimate of your ice dam problems.