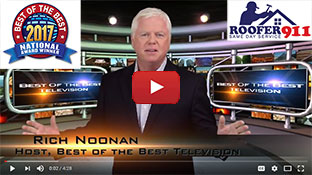 Vienna Roof Repair
SUPERIOR WORKMANSHIP AND GUARANTEED SATISFACTION!
Common Services
in Vienna

| | | |
| --- | --- | --- |
| | | |
| With our highly sensitive infrared camera we are able to pinpoint all hidden or active roof leaks in Vienna Virginia. | | |
| | | |
| Call 703-475-2446 today for emergency roof repair service. Picture above shows a wind damaged aluminum ridge vent that was not installed correctly. | | |
| | | |
| Call today for your free estimate for solar or electric attic fan installation. Make your home more bearable during the hot summer months and lower your utility bills. | | |
| | | |
| When installing or repairing gutters, having proper pitch is most important to prevent water from backing up and going inside your home. This will prevent mold and structural damage. | | |
| | | |
| When hiring Roofer911 you get the "Peace of Mind" knowing that your new roof was installed correctly the first time. Customer satisfaction is our #1 priority! | | |
Vienna, not the European city, but the one in Virginia, is a city that many people want to live in. With 15,687 people, it placed third on the list of 100 best places to live in the United States. A deep history, with plenty of local attractions for anyone who loves culture, fun and more, it is a great place to own a home.
While it may be a great place to live, it still gets plenty of weather, and that weather is not always calm winds and clear blue skies. In total, 43.6 inches of rain falls on the city each year, along with 7.2 inches of snow. The entire city is in a very humid and hot area in the summer, and that takes a heavy toll on your roof, leading to the need for
roof repairs
.
The moisture that gets into the smallest cracks, even those you can't notice, expands and contracts as the temperature rises and falls through the spring, summer, fall and winter. This slowly causes the size of the crack to increase and given a couple years, that crack begins to let water in. The tiny cracks form from normal wear and tear by the natural elements. For example, ultraviolet rays from the sun cause the adhesives in your roofing materials to shrink and break, as it becomes brittle. Sealing compounds pull away from the flashings and shingles, leaving seams and openings exposed to the rain.
Once water, even just a drop or two, gets into your attic from the roof, a very bad thing happens. Mold and mildew begins to grow. This is because the attic is very warm and humid, especially during the summer. As a result, mold begins to grow quickly and before you know it, you have a serious mold problem throughout the entire house. Black mold can be deadly for certain people with high sensitivity.
The other big issue is rot. Wood structures and sheathing are totally at the mercy of even a small trickle of water. A small leak will eventually become a gaping hole, allowing gallons of water into the house during a heavy storm. If you wait until you see water stains on the ceiling of your rooms, it is already too late.
Be proactive
The best thing you can do is to tackle roof problems before they happen. If you go through a summer that has a lot of high winds, thunderstorms and hail, then your roof may have taken a lot of damage. Contact our roof repair contractors and after a thorough inspection we can give you a complete damage report. Here's a question to consider - would you rather deal with a repair when it only costs a small amount, or when it is a problem so severe that the very structure of the roof has been compromised?
Energy-efficiency
When you keep your keep your roof and attic in good condition, you improve the energy-efficiency of your home. It helps to stabilize the interior temperature of the house, giving your furnace and air conditioning units some relief. You should also be aware that dry insulation has better R-value than wet insulation. Our goal for your home in Vienna is to keep your maintenance costs to a minimum. We also want to do the roof repairs that prevent a premature
roof replacement
. Your roof could last for 15 years or more with the right amount of TLC. Not only that, but a well maintained roof gives your home better curb appeal and increases the market value should you ever decide to sell.
For other helpful resources concerning building and remodeling needs, you may want to visit www.viennava.gov; this is a great source for roofing and renovation concerns.
Serving the following zip codes: 22180, 22181, 22182, 22183, 22184, 22185
Our Complete Range of Roofing Services in Vienna, VA include:
Leave Your Comments
Read Ratings & Reviews Posted By Homeowners in Vienna Virginia, VA for Roof Repair & Installation
25
user reviews with an average of .
Total of
Leave Your Comments
Recent Free Roofing Estimates Requested from Roofer911
Type of Service: Roof Repair, Not Emergen
Date Submitted: Monday, June 16, 2014 - 8:46 AM
City: Vienna
State: VA
Customer Type: First Time Customer
Description: Tree limb dropped on roof. Does not appear to be structural damage, but there does appear to be shingle damage. Would like a professional to provide repair estimate



Type of Service:
Date Submitted: Friday, October 18, 2013 - 9:28 AM
City: Vienna
State: VA
Customer Type:
Description: Skylight and dormer leaks



Type of Service:
Date Submitted: Thursday, September 12, 2013 - 4:02 PM
City: Vienna
State: VA
Customer Type:
Description: I spoke with Steve at 5:45 on Thursday and he said he would come by to check out our possible roof leak between 7-9am on Friday. My wife (Heather) will be home when he arrives.



Type of Service:
Date Submitted: Monday, April 8, 2013 - 12:21 PM
City: Vienna
State: VA
Customer Type:
Description: Need to have the roof checked. few shingles missing and since we moved in we never had it checked.



Type of Service:
Date Submitted: Friday, August 17, 2012 - 10:02 AM
City: Vienna
State: VA
Customer Type:
Description: The rake board on my townhouse is rotten. A new painted rakeboard needs to be put up. I talked to steve earlier and we concluded we could be there tomorrow morning.