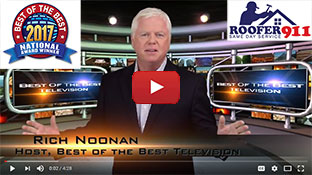 Oakton Roof Repair
SUPERIOR WORKMANSHIP AND GUARANTEED SATISFACTION!
Common Services
in Oakton, Virginia

| | |
| --- | --- |
| | |
| You had your roof fixed but it's still leaking? We guarantee our workmanship. Your roof will not leak in the same place twice. | |
| | |
| We can help you with home insurance claims. Our infrared cameras reveal hidden water damage behind walls your insurance company needs to see. | |
| | |
| Heavy rain can ruin the contents of your home. Call us 24/7 for roof emergencies. Don't wait until it's too late. | |
| | |
| How old is your roof? Is it time for a new roof replacement? | |
| | |
| Seeing wind damaged aluminum trim in Oakton, Virgina is very common and is most often the result of improper fastening procedures. | |
You could spend a million dollars building a roof with space age materials, but with the kind of weather we get in Oakton, eventually you will need roof repairs. There is no getting around it! You'll be happy to know that less money and some TLC will actually save your home maintenance budget. A simple roof leak is easy to fix early on, but if you ignore it, that simple roof leak leads to massive repairs and high expense. Making the decision to keep your roof in good shape is wise for many reasons.
How Leaks Start
You would be surprised at the ways a roof leak can get started. The moment your
new roof
is built, it goes into battle with the elements. Just like any other protective material eventually it wears out. Extremes in temperature, wind, hail, snow, ice and sunlight beat up on your roof incessantly. It's like being under the influence of an electric sander 24/7. Those are normal conditions for a roof – it must also deal with individual circumstances that threaten the rest of your home.
We are famous for the wind driven rains that throw horizontal sheets of water at your house. A roof can be in perfect condition but in this type of storm, unprotected areas allow water to enter. Loose shingles don't stand a chance. With a storm like this you can end up with several gallons of water pouring through your exterior wall cavities and attic. There is really no telling how or where it will flood your house.
Water from a leak can show up far away from the original source, since it follows the path of least resistance. It doesn't necessarily drip straight down from the point of entry. It can travel along roof panels or lumber in the attic before dripping onto your insulation and eventually soaking the drywall in your ceiling. Wet insulation is frequently the breeding ground for toxic black mold. It also looses R-value and you experience this as higher energy bills.
Frequently we are asked, "Why is my chimney leaking inside?" This is what happens: If your chimney is brick, the mortar between the bricks can develop hairline cracks. Combine this with old roofing compound around the base of the chimney where it comes through the roof. The sealant shrinks and pulls away from the flashings that cover the seam. Water seeps into the seam and through the cracks in the mortar. Now you have puddles of water accumulating in your fireplace.
Waterproofing
The primary function of your roof is to provide a waterproof barrier over your house, much like an umbrella. Unfortunately, an inexperienced roofer can make mistakes that cause your roof to fail. For example, shingles nailed too high on the tabs are more apt to snap off in the wind. Incorrectly placed flashings cannot cover the seams they are meant to protect. Inadequate roof vents make your attic too hot in the winter and you have the potential for ice dams and leaks during subzero weather. To give the best service, your roof must be a continuous waterproof surface for the entire expanse it covers.
Roof Repairs
Typically, home owners in Oakton wait until they see wet ceilings or walls inside the house before calling a roofing company. By the time a leak becomes evident, you already have extensive water damage, rot, mildew and mold to the inner structural regions. The best prevention is to have your roof inspected at least once a year. In the long run you will save money and add several more years to the productivity of your roof.
For more information regarding Oakton building and licensing; visit www.oaktonva.org
Serving the following zip codes: 22124, 22185
Our Complete Range of Roofing Services in Oakton, VA include:
Leave Your Comments
Read Ratings & Reviews Posted By Homeowners in Oakton Virginia, VA for Roof Repair & Installation
4
user reviews with an average of .
Total of
Leave Your Comments
Recent Free Roofing Estimates Requested from Roofer911
Type of Service:
Date Submitted: Monday, July 8, 2013 - 7:04 AM
City: Oakton
State: VA
Customer Type:
Description: Attic exhaust fan motor has seized up and needs replacing.



Type of Service:
Date Submitted: Thursday, July 26, 2012 - 3:53 PM
City: Oakton
State: VA
Customer Type:
Description: I need a gutter added to the back of my house and a leaking roof patched.



Type of Service: Roof Repair, Not Emergen
Date Submitted: Wednesday, December 7, 2011 - 6:04 AM
City: Oakton
State: VA
Customer Type: First Time Customer
Description: Need to repair roof leaking, 10x6.