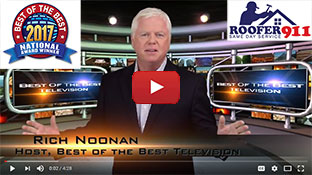 Mt. Vernon Roof Repair
SUPERIOR WORKMANSHIP AND GUARANTEED SATISFACTION!
Common Services in
Mt. Vernon

| | | |
| --- | --- | --- |
| | | |
| All roof installations are done according to manufacturers specifications to insure a water-tight roof. | | |
| | | |
| Our Roofer911 technician is shown repairing the top of a townhouse roof where an aluminum ridge vent blew-off due to strong winds. | | |
| | | |
| We provide emergency roof repair service in all areas of Mt. Vernon, Virginia to prevent additional damages. | | |
| | | |
| Our infrared leak detection camera shows moisture trapped inside the exterior wall cavity from rain and ice dam. If not corrected properly, mold along with structural damage may develop in time. | | |
Being a roof in Mt. Vernon is not an easy job. Protecting the entire house from the weather can be stressful. Weather is precisely the reason you should schedule regular roof inspections and take care of roof repairs as they are required. Periodic inspection programs are essential, not really optional. Failure to keep up your roof maintenance could result in severe water damage to your home, not to mention the costly expenses involved. If you are not sure what to look for when inspecting your roof, you need an experience professional to give it a checkup.
Attic Ventilation
Here is a question we are frequently asked: "Is my roof ventilated properly?" Ventilation is for circulating air to keep it fresh, reduce moisture levels and maintain a certain temperature. Poor attic air flow, blocked ventilation and too much heat cause ice dams, leading to roof leaks in the middle of winter. If you do not clear up the ice dams, the melting snow on your roof backs up under the shingles.
Proper roof sealing, insulation, and attic venting are the best way to eliminate the problem. If you don't know how your roof vents work, or if you're unsure about your attic ventilation in general, you should talk to your roofer about your current system and any inherent weaknesses that you may have.
Hairline Cracks
From the moment a roof is first installed, it starts wearing out through the natural aging process. UV rays from the sun break down the adhesives in your shingles and sealants. They shrink and crack. Anywhere you have a seam where one section of the roof meets another, or a hole has been cut to allow for a pipe, chimney, vent or skylight you have a weak point.
You would be amazed by the amount of damage a few minimal cracks can do. The moment water contacts materials that are not waterproof, a chain reaction of rot, mildew and toxic black mold ensues. The longer the problem is neglected, the worse the hidden damage to your home becomes. When ignored for months or years, your roof could cave in or a ceiling can collapse during a storm. You could also end up with a severely flooded basement.
Condensation
Condensation usually is first noticed on your windows because it's the most obvious. It is an indication that the air in your house has too much moisture in it. When you see condensation on your windows, it could mean that excessive indoor humidity is causing damage elsewhere in places you can't see. Moisture can be hidden behind your walls, ceilings, floors, and in your attic. Excessive indoor humidity can cause blistering and peeling paint, warping and rotting wood, as well as the formation of mildew. Although you may have situations in your house such as a poorly ventilated bathroom or loose dryer vent, it can also be caused by a leaky roof.
Newer homes are being built with higher energy efficiency. They are well insulated and no longer "breathe" the way an older home could. It creates the perfect environment for molds and airborne spores that can make the people living in the home very ill. It's just another reason you need to have your home inspected for leaky roof issues.
Your home might be the biggest investment you'll ever make. In Mt. Vernon we get almost every type of weather pattern known to occur in the country. Your roof works very hard to protect your home from normal conditions, as well as from driving winds and hail storms. Maintain roof repairs and your roof will last for several years longer and ultimately saves money on your home care budget.