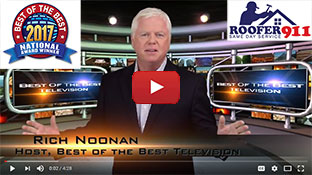 Lorton Roof Repair
SUPERIOR WORKMANSHIP AND GUARANTEED SATISFACTION!
Common Issue in Lorton

| | | |
| --- | --- | --- |
| | | |
| Our highly sensitive infrared camera detects moisture inside the exterior wall from a sagging gutter and ice dam build-up. | | |
| | | |
| Once the old roof has been removed then we install Ice and Water Shield to all the eaves and valleys as in the picture above to prevent leakage due to ice dam.. | | |
| | | |
| Remove and replace all damaged or missing roof shingles on this high townhouse in Lorton, Virginia and then reseal to prevent future wind blow-off. | | |
| | | |
| Repairing the side wall on a home that had missing vinyl siding due to strong winds. | | |
Roof repair is a necessity, not a luxury for home owners in Lorton. Why? Consider the rain pounding on your roof, melting snow backing up under the shingles, hail punching holes in it and the wind tearing it apart. Even the UV rays from the sun can slowly destroy your roof by drying out the compounds that keep it waterproof. Your home may be the biggest purchase you'll ever make, and your roof is what protects it from the elements.

Roof Repair or Roof Replacement?

When you call your roofing contractor, one of the first questions you should ask is, "Should I fix my roof or should I get a new one?" Even if your roof is still only a few years old, roof repairs take care of the problems before they get worse. If the roofer comes to the conclusion that 1/3 of the shingles need to be replaced, it may be time to get a new roof.

Homeowners Associations

Here's another common question: "Do I first need approval by the HOA before my roofer performs any roof repair? The Home Owners Association in every community has a list of guidelines that must be followed. As a homeowner you should be aware of the rules and expectations. Find out what your restrictions may be for materials to be used for roof repairs or replacements. Homeowners are usually instructed to wait for HOA approval before beginning work. This is also the time that you may want to review any home owner's insurance policies to find out what is covered. (FYI, we can help you with filling out the paperwork for insurance claims.)

If you don't have an HOA that enforces your design, many types of roofing are available. All perform the same important function: protecting your house. Roofing can be basic, cost-effective, and simple, with subtle colors and patterns that add aesthetic value to your home. Or it can be a fanciful architectural statement, chosen for its ability to attract attention as well as fend off the elements.

Preparing for Work on Your Roof

Determining the source of a leak and getting it fixed can usually be done within a day. Of course it will take more time if the leak has been neglected for many months. It is much more involved to repair rotted structures, mildew and toxic black mold. It's also far more expensive. Unless your home is undergoing a major roof renovation, there's nothing you really need to do to prepare, other than move vehicles or objects near your home that could be hit by a falling shingle.

What's most important is that you have the roof repairs completed as quickly as possible. Even hairline cracks in your roof allow enough water in to do some serious damage. By the time you notice a problem inside your home, it has already left a path of destruction in its wake. Keep in mind that no building materials are impervious to water. Insulation does not rot when it gets wet, but it loses R-value and your energy bills go up.

Your roof acts like an umbrella ovyour houseer , deflecting the weather, temperature changes, wind, UV rays and wind we experience in Lorton. Without a solid roof, your home is directly exposed to the elements. You can't afford to let your roof get run down. Small roof repairs done before they get out of control saves money and can extend the life of your roof another 5 to 10 years. And if you ever decide to sell, a good roof increases the market value of your home.

For more building and development information in the Lorton VA area, contact www.fairfaxva.gov
Serving the following zip codes: 22079, 22199
Our Complete Range of Roofing Services in Lorton, VA include:
Leave Your Comments
Read Ratings & Reviews Posted By Homeowners in Lorton Virginia, VA for Roof Repair & Installation
7
user reviews with an average of .
Total of
Leave Your Comments
Recent Free Roofing Estimates Requested from Roofer911
Type of Service: Roof Repair, Not Emergen
Date Submitted: Thursday, May 19, 2016 - 1:52 PM
City: Lorton
State: VA
Customer Type: First Time Customer
Description: I'm getting a leak from my roof into the 3 level master bathroom and Master bedroom. I also am getting a leak on the main level from roof, as well. I would like to get a Attic fan installed in my Attic.



Type of Service:
Date Submitted: Monday, February 4, 2013 - 10:40 AM
City: Lorton
State: VA
Customer Type:
Description: Hear water dripping in vent inside home when it rains but can't isolate the source.



Type of Service:
Date Submitted: Friday, December 28, 2012 - 8:35 AM
City: Lorton
State: VA
Customer Type:
Description: Roof leak in master bed room and missing shingles.



Type of Service:
Date Submitted: Thursday, August 23, 2012 - 11:47 AM
City: Lorton
State: VA
Customer Type:
Description: Have a small section of vinyl siding on the rear of the house that needs to be repaired. Does not appear that the siding needs to be replaced.



Type of Service:
Date Submitted: Saturday, June 30, 2012 - 9:23 AM
City: Lorton
State: VA
Customer Type:
Description: Had some roof damage from the strong storms that passed through last night. Shingles were stripped off and some still remain on the roof unsecured.