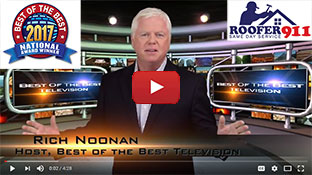 Fairfax Roof Repair
SUPERIOR WORKMANSHIP AND GUARANTEED SATISFACTION!
Common Services
in Fairfax
Infrared image shows wet insulation trapped inside the exterior wall cavity from a roof leak and sagging gutter. We locate the source of ALL leaks that others cannot find in miuntes,
Mold can develop within 48 hours after a roof leak develops so if you notice water stains on your ceiling or walls have it fixed asap.


We are committed to exceeding your every expectation from beginning to end when it comes to the installation of your new roof.
The old vent pipe flange has been removed and replaced and will be fastened at all four corners. Next, we install Ice and Water Shield over the existing flashing and re-shingle the area.
Fairfax is not a big city. It is encompassed in a 6.3 mile area. This county seat of Fairfax County was established in the early 1700's. Its architecture dates to 1742 when the county courthouse was built and established as the prototype for courthouses all over the country. This town has seen more than its fair share of weather of all types. From older architecture to newer more beautiful homes and buildings, roofs here need attention as much as any other. A good roof repair program makes all the difference.
Fairfax gets almost 45 inches of rain annually. In the winter, with temperatures dipping as low as -18 degrees (in 1984), this can mean one heavy snow load on your roof. Your roof must be durable. Think about it, in the winter the roof freezes and must hold up some serious weight, this alone can mean roof repairs. Take into account that temperatures will vary from week to week, snows will melt and refreeze causing water and ice to back up under shingles and tiles. This loosens roofing materials and begins the process of widening the gaps between tile, shingle, and fixtures protruding from the roofs. Simply put, gaps allow moisture into the home. It starts small and as the process continues, it causes an ever expanding problem that needs some serious attention. Roof maintenance is a must to catch this before it barrels out of control and lets in major amounts of water.
Water, Water, Everywhere
Water in the structure causes major problems. If not dried out thoroughly, it can cause the growth of dangerous black mold or other types of infectious bacteria. Water that remains in the attic or seeps into the walls can end up causing structural problems. Water restoration is the next step in the process. A certified contractor must check the moisture levels in your home. If too high, he will then open up the walls and dry out the building. If roof damage is left without the proper care, the damage will get progressively worse. Eventually, a new roof will need to be installed. Regardless, this is a long and arduous process, not to mention very costly, that no home owner ever wants to deal with. It is best to take care of this situation before it ever happens.
This applies to any roof, whatever its age. Even a new roof needs care. Some people think that with a new roof, they don't have to be concerned with its care for at least ten years. Would that were so. Without a certified inspection of your roof, you just don't know its condition. Even a new roof may show signs of gaps or moisture damage. Perhaps it was not installed properly? Maybe it's not watertight, or maybe the elements are hitting it just right to cause early wear of the roofing materials, damage can result. Since most of us aren't qualified to know what to look for when examining our roof, it's a good idea to get someone up there that knows the "lay of the land", who has experience and has helped many others before.
What Can YOU Do?
So, how do you avoid this hassle? It's easy; you contact one of one of our certified Fairfax roof repair specialists for a free inspection of your roof. They will help you to devise a maintenance plan to keep any of these problems to a minimum. It's advisable to get a roof inspection twice a year to prevent any problem from becoming a bigger problem. Remember, roof problems don't go away, they only get worse. Deal with those problems today and tomorrow your roof will be healthy.
Leave Your Comments
Read Ratings & Reviews Posted By Homeowners in Fairfax Virginia, VA for Roof Repair & Installation
10
user reviews with an average of .
Total of
Leave Your Comments
Recent Free Roofing Estimates Requested from Roofer911
Type of Service: Roof Repair, Not Emergen
Date Submitted: Thursday, March 9, 2017 - 6:44 AM
City: Fairfax
State: VA
Customer Type: First Time Customer
Description: 2 or 3 shingles were blown off of our house yesterday during heavy winds. I believe I have all the shingles if they can be reattached. Would like repaired asap before snow or rain. Thank You



Type of Service: Emergency Roof Repair
Date Submitted: Sunday, January 19, 2014 - 10:18 AM
City: Fairfax
State: VA
Customer Type: Repeat Customer
Description: Have a leak coming into the bedroom from the roof.



Type of Service: Roof Repair, Not Emergen
Date Submitted: Sunday, January 5, 2014 - 1:41 PM
City: Fairfax
State: VA
Customer Type: First Time Customer
Description: We have a leak coming through the roof of the porch on our main entrance , we would like to have someone come over to take a look at it and quote to repair at the earliest. Thanks



Type of Service:
Date Submitted: Monday, April 8, 2013 - 12:02 PM
City: Fairfax
State: VA
Customer Type:
Description: Steve, I spoke to you this afternoon regarding a wet ceiling in the bathroom. I have entered my contact information in your website, per your request. You, also, mentioned that the apporintment is on 4/9/2013 between 8:00AM and 11:00AM. Please let me know if you need additional information. Thanks, Ramesh



Type of Service:
Date Submitted: Wednesday, March 13, 2013 - 3:42 PM
City: Fairfax
State: VA
Customer Type:
Description: Leaking skylight has caused water damage to ceiling and wall.