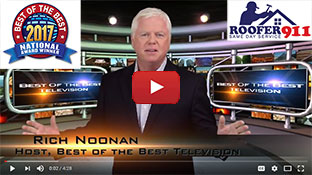 Dunn Loring Roof Repair
SUPERIOR WORKMANSHIP AND GUARANTEED SATISFACTION!
Common Services
in Dunn Loring

| | |
| --- | --- |
| | |
| Infrared image shows moisture (blue) trapped inside the exterior wall cavity from an overflowing gutter and ice dam. If not fixed correctly, mold along with structural damage may develop. | |
| | |
| No one does it better than Roofer911! Our free estimates and same day service are just some of the things our clients love us for! | |
| | |
| When installing gutters, fastening procedures and pitch must be done perfectly so that water flows to the downspout and not inside your home. | |
| | |
| Do you need Emergency roof repairs? We provide immediate service for roofs damaged by wind, hail, rain or snow. | |
| | |
| Having missing or loose aluminum fascia is always the result of improper installation. Our repairs can withstand winds up to 100 mph. Call today for your Free Estimate! | |
Dunn Loring is quite a spectacular place to live with a small town feel, yet it encompasses all the amenities. It has a long and interesting history dating back into the 19th century. Many of our homes have been here for decades. One factor that has spanned the centuries is the effect the weather has on our homes. It makes no difference if some roofs have not been repaired in many years. Even the newer homes have to deal with the effects of the elements. Roof repair is a necessary part of home maintenance as a strategy to combat the effects of time.
We are fortunate to have plenty of sun with 200 days a year, but sunlight is one of the toughest issues your roof must handle. The UV rays cause the adhesives in your shingles and roofing compounds to break down and become brittle. Even with the best roofing materials with high resistance to the sun, there is a level of regular maintenance involved. As the sealants shrink, they pull away from the roof and flashings, leaving seams and gaps where the roof is cut through, exposed to the rain. In our area, 43.6 inches of rain falls every single year, well over the average for the United States. That adds up to gallons of water leaking into your house with every storm.
Roof Repair Needs
When you hire experienced
roof repair contractors
, you have a greater historical advantage – years of wisdom gained from all the possible problems with a roof! Why does it matter to give all this attention to your roof? The simple answer is that by repairing your roof, you are preventing a host of problems down the road. When your roof develops a small leak, a chain reaction begins. When water contacts materials that are meant to be dry, it leaves a path of destruction. Rot, corrosion, mildew and toxic black mold are the result. With each passing month, the cost of going through a roof repair is going to increase, and that means the longer you wait, the more you pay.
The Roof, the Soldier
Your roof is an unsung hero. It gets none of the praise but it never stops working. When a major rainstorm comes through, the roof takes the brunt of it. When there is a storm, it is usually the first to take on the savagery of the wind. Your roof fights the good fight for you, but it is a losing battle. Eventually, Mother Nature will win and defeat your roof. It's a simple fact of home ownership.
Just One Shingle
Think of the roof as a suit of armor. The shingles are the plates that protect the roof, and therefore protect your home. The problem is that a wind storm can come along and take just one shingle away. That may not seem like a big deal, it is just one shingle out of dozens, but that is how it starts. Now, there is a weak point in your roof. The next wind storm takes a couple more shingles, and the rain soaks into the roof just a little bit more. The problem continues to get worse as time goes on until your roof is severely damaged, the water is leaking in every time it rains and you are faced with a huge bill for roof repair.
Don't let that happen. Our roof repair contractors are keenly aware of the need to avert a crisis. The rain will always come to Dunn Loring, and that means you will always have to deal with those maintenance issues. Regular inspections and repair will add years to the life of your roof and increase the energy efficiency of your home,
With over 40 years of experience in the Dunn Loring area; we offer assistance in permitting and building development. You can find this information at www.fairfaxva.gov

Serving the following zip codes: 22027
Leave Your Comments
Read Ratings & Reviews Posted By Homeowners in Dunn Loring Virginia, VA for Roof Repair & Installation
2
user reviews with an average of .
Total of
Leave Your Comments
Recent Free Roofing Estimates Requested from Roofer911
Type of Service:
Date Submitted: Tuesday, June 19, 2012 - 2:11 PM
City: Dunn Loring
State: VA
Customer Type:
Description: spoke to Steve 4.15 PM tuesday take down satellite dishes and repair roof



Type of Service: Other
Date Submitted: Monday, March 5, 2012 - 9:20 AM
City: Dunn Loring
State: VA
Customer Type: First Time Customer
Description: We have a leak coming into our home from what appears to be the top of our bump-out that is located on the side of our house (we are an end-unit townhouse). There is a window above the bumpout window. We have only seen signs of water in the interior ceiling near the top of our bumpout, and running down the wall adjacent to the bumpout.