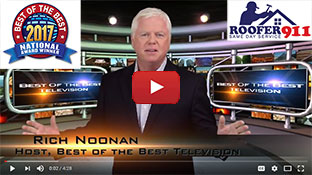 Chantilly Roof Repair
SUPERIOR WORKMANSHIP AND GUARANTEED SATISFACTION!
Common Services
in Chantilly

| | |
| --- | --- |
| | |
| With our highly sensitive infrared scan equipment, we've taken the guesswork out of finding leaks, "We SEE Leaks!" | |
| | |
| All our new roof installations are done according to manufacturer specifications to insure a water tight roof. | |
| | |
| Wind damaged aluminum trim is a very common site in Chantilly, Virginia becase of the homes being high and exposed to the wind. Our siding repairs are guaranteed to withstand winds up 100 mph. | |
| | |
| We guarantee to locate and fix all types of roof leaks, no matter how difficult. Call today, you'll be very pleased you did! | |
| | |
| When installing or repairing gutters we screw through the fascia and into the rafter tails. Our installers use a long level placed in the gutter to determine the actual slope required. By using levels, we can insure that the water will flow to the downspouts without ponding. | |
Chantilly is a beautiful place to live, with an excellent mix of history and contemporary culture. It was established in the early 1700's, about 130 years before the Civil War. Residents enjoy a higher than average income level. Chantilly is home to many professionals and is considered a "boom town" because of the constant growth and continued development. This is great, but, even professionals need to consider the condition of their roofs and roof repairs.
Our Hero, the Roof
"Boom town" or not, Chantilly families need to be safe and secure in today's world. Our homes are the safe havens where we can retreat from the demands of a busy life. And there is no bigger hero on our side than our roof because it is a major component in keeping our home in the best condition. Rain, thunderstorms, wind, sunlight, harmful ultraviolet rays, airborne projectiles, you name it; our roofs have their work cut out for them.
What are the issues?
Many problems plague our roofs over the course of their lifetime. The natural elements will "age" them prematurely. Wear and tear will eventually allow moisture into the home through gaps in roofing materials. Chantilly receives over 40 inches of rain a year. This is better than the national average. The rain must go somewhere. If gaps exist in the roofing materials because, for example, a few shingles got torn off in a wind storm, you have a breach. Water can enter the attic without you knowing and settle there as an unwelcome guest. In the attic, heat and humidity create the perfect environment to encourage mildew and black mold. These invaders take over the house if you allow them.
Excessive moisture in the attic means many unfortunate things are happening. On one hand, you are dealing with black mold, which can be deadly. Wet attics are rotting attics, meaning the support structure for the roof is weakening. The insulation that keeps your family warm in the winter and cool in the summer increases in moisture content. This reduces the R-value and drives your heating and cooling costs up. Water trickles down the inside of your walls and is absorbed by the drywall. Soaking wet drywall causes the paint to bubble and peel, and the wall itself to eventually fall apart. Water can drip into ceiling mounted light fixtures and short them out.
Another common issue is blocked gutters that overflow. They dump water around the foundation of the house, flooding the basement in the process. To say the least, this type of water damage can be very costly.
Hero Support
Your roof is more than willing to be the front line defense for your home when it comes to dealing with the environment. To do this, it needs to be at its best. Regular roof inspections, about twice a year, will enable you to keep small issues from becoming major problems. If your concern is how much it will cost to fix your roof, consider the expense of ripping out ceilings and walls to replace areas completely destroyed by water.
Prevent these problems
The good news is that you can prevent severe water damage from ever developing in your Chantilly home. You can be proactive by scheduling a check up with our roof repair contractors to locate leaks and stop them now. If you suspect a leak, it is always best to have it handled early on. Roof problems don't go away, they only get worse. Deal with those problems today and have repairs done as soon as you think there is an issue. In the long run it will add years to the life of your roof, save on your energy costs and keep your family in a safe, comfortable environment.
Our Complete Range of Roofing Services in Chantilly, VA include:
Leave Your Comments
Read Ratings & Reviews Posted By Homeowners in Chantilly Virginia, VA for Roof Repair & Installation
17
user reviews with an average of .
Total of
Leave Your Comments
Recent Free Roofing Estimates Requested from Roofer911
Type of Service: Roof Repair, Not Emergen
Date Submitted: Tuesday, March 1, 2016 - 5:25 PM
City: Chantilly
State: VA
Customer Type: First Time Customer
Description: Roof needs repair around vent pipe--will include some work on rotted wood needing replacement under shingles. Also need work on church building roof is leaking.



Type of Service:
Date Submitted: Thursday, August 9, 2012 - 7:57 AM
City: Chantilly
State: VA
Customer Type:
Description: Looks like the winds in the last couple of weeks have torn open the sidings near my roof. Can you come and provide an estimate?