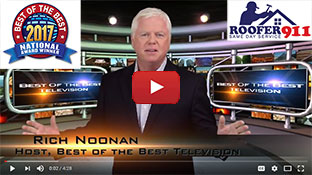 Centreville Roof Repair
SUPERIOR WORKMANSHIP AND GUARANTEED SATISFACTION!
Common Services
in Centreville

| | |
| --- | --- |
| | |
| Roofer preparing the top of a townhouse roof for a new ridge vent system. | |
| | |
| Do you have sagging gutters? Our infrared camera detects moisture inside walls when not pitched properly which could lead to mold if not corrected. | |
| | |
| The old roof was removed and here our men are in the process of installing new plwood then will install new felt paper and roof shingles. | |
| | |
| When performing vinyl siding repairs we always make sure to fasten each panel into the studs behind the wall to eliminate wind blow-off. | |
| | |
| Seamless gutters are made on-site and installed. All gutters are pitched properly and screwed into the rafters behind the wood fascia to prevent sagging. | |
It's definitely a bonus owning a home near the nation's capital, but one of the best things about living in Centreville is the high number of sunny days. But this does not mean we can neglect certain aspects of maintaining our homes, including roof repair. It's true we don't have to worry about monsoon rains or several feet of snow destroying the roof, but things go wrong as part of the natural aging process.

Consider the impact your roof takes to protect the rest of your home from the elements. It must resist rain, snow, hail, heat, cold, wind and UV rays. Your roof works hard to maintain a stable environment inside your home, so you can go about the business of living in comfort.

Any weather, even a little bit of it, will degrade your roof over time. The adhesives used in roofing materials break down and shrink under the influence of the sun. Any seam or penetration through the roof to allow vents, pipes, a chimney or skylights becomes vulnerable. We have our share of storms and wind in Centreville. Ignoring the condition of your roof increases the likelihood of the next storm doing significant damage to your home.

Should you wait?

Imagine this scenario...You find out there is a tiny, almost microscopic leak in your roof. Only a couple of drops come through in a rainstorm and you feel that there is no need to be concerned. Fast forward a few weeks and several more rainy days. That leak has allowed water to contact the interior structure of the roof, so that now you have some wood rot occurring. The drip is now a trickle each time it rains. It soaks into the insulation inside the attic and the walls. Black mold begins to grow. A few more weeks go by and you notice mold around the bottom of your baseboards. You see a damp spot in the ceiling. At this point, massive damage had already been done. You are only seeing the tip of the iceberg.
A few weeks ago you thought the problem was insignificant. Now when you ask, "How much is this going to cost me?" you experience a moment of shock when you get the answer. The moral of this story: Never wait to fix a problem in your roof!

Our roof repair contractors offer free roofing inspections for a reason. We are home owners too, and we understand the cost to maintain a home. It's important to us that we catch a small problem right in the beginning and take care of it before it grows into a major water damage restoration project or causes you energy bills to skyrocket.

Decision Time

So now it's time to make a decision about your roof. Do you want to wait for the problem to get worse, or do you want to repair it now? If you had a leaky faucet that wouldn't go away, would you just wait for it to fix itself? If your car's brakes only worked half the time, would you hope the problem disappeared by ignoring it? No, you wouldn't, and you shouldn't do the same when dealing with your roof. Your roof protects your home from the wear and tear of the environment. Once it has been compromised, things will only get worse.

Centreville is a great place to live and own a home, but now you know that even the nice weather will slowly wear away at your roof. An annual inspection by our experienced roof repair contractors is part of a good home maintenance plan.
Our Complete Range of Roofing Services in Centreville, VA include:
Serving the following zip codes: 20120, 20121, 20122
Leave Your Comments
Read Ratings & Reviews Posted By Homeowners in Centreville Virginia, VA for Roof Repair & Installation
20
user reviews with an average of .
Total of
Leave Your Comments
Recent Free Roofing Estimates Requested from Roofer911
Type of Service: Roof Repair, Not Emergen
Date Submitted: Monday, February 10, 2014 - 4:33 PM
City: Centreville
State: VA
Customer Type: First Time Customer
Description: Squirrel in attic through metal cap on apex over garage - at least need to fix cap as it appears turned up.



Type of Service: Emergency Roof Repair
Date Submitted: Wednesday, December 11, 2013 - 7:45 AM
City: Centreville
State: VA
Customer Type: First Time Customer
Description: Skylight is leaking.



Type of Service:
Date Submitted: Saturday, May 25, 2013 - 10:41 AM
City: Centreville
State: VA
Customer Type:
Description: Attic fan replacement. We bought the fan and want to know the cost to replace the current one.



Type of Service:
Date Submitted: Monday, April 29, 2013 - 10:51 AM
City: Centreville
State: VA
Customer Type:
Description: I'm not sure if it's an emergency or not. I can see moisture spots on my ceiling so I'm pretty sure the roof is leaking. I prefer to interact and set up appointments via email. Thank you.



Type of Service:
Date Submitted: Saturday, November 10, 2012 - 12:39 PM
City: Centreville
State: VA
Customer Type:
Description: Water damage from slopped roof dormer window area.