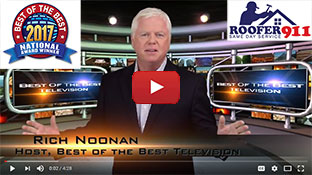 Burke Roof Repair
SUPERIOR WORKMANSHIP AND GUARANTEED SATISFACTION!

Common Services
in Burke

| | |
| --- | --- |
| | |
| With our highly sensitive infrared camera we are able to trace the source of the roof leak to the ridge vent on top of the gable roof. | |
| | |
| Professional roofer from Roofer911 installing a new roof according to manufacturers specifications which will insure a water-tight roof for many years to come. | |
| | |
| Attic fan installation will make a huge difference keeping your home cool during the hot summer months and will extend the life of your roof. | |
| | |
| Roofer911 mechanic installing a single-cut closed type roof valley. | |
| | |
| Emergency roof repair service 7 days per week in all areas of Burke. | |

Every day, your roof takes on the task of dealing with everything the natural elements throw at your home. Roof repair is a necessity, rather than a luxury for home owners in Burke. Consider the rain pounding on your roof, melting snow backing up under the shingles, hail punching holes in it and the wind tearing it apart. Even the UV rays from the sun slowly destroy it. Being a roof is not an easy job. Protecting the entire house from the weather is stressful, and precisely the reason a regular roof maintenance program is essential, not optional.

In Burke, at least 35.6 inches of rain falls annually, not to mention we get 16.3 inches of snow in the winter. Throughout the year, your roof deflects precipitation, extremes in temperatures, high winds, airborne objects, overflowing gutters and UV rays to keep the interior environment of your home pleasant for living. Roof repairs are going to be needed, even if your roof was built with the best materials.

Roof Repair or Roof Replacement?

When you contact our roofing contractors in Burke, the first question you should ask is, "Should I fix my roof or should I get a new one?" If your roof is still only a few years old, you can solve the problem with roof repairs. As a matter of fact, putting some TLC into your roof now will actually save money in the future because it will last longer! If the damage to your roof affects more than a third of the surface area, you may need a new one.

Failure to keep up your roof could result in severe water damage to your home. Roofing materials go through a natural aging process that makes your system less waterproof. Hairline cracks develop in the shingles and roof caulk, allowing rain to reach the roof deck. Roofing compound around chimneys, vents, pipes and skylights shrinks and splits. The protective granules on the shingles fall off. Poor attic ventilation causes ice dams and leaks in the middle of winter! Blocked gutters create standing pools of water. Once water contacts the internal structure of your home, you have the issues of rot, mildew and toxic black mold destroying everything in sight.

A simple roof leak is easy to fix early on, but if you ignore it, that simple roof leak eventually leads to massive repairs and high expense.

The Cost

As a home owner, you are likely asking, "How much will it cost?" This varies depending on the amount of roof repair needed. What's important to remember is this: The cost of fixing a small leak is much lower than the expense associated with water damage restoration. Make sure you call for a free roof inspection at least a couple times a year to catch problems before they get out of hand.

Make the Call

Making the decision to have roof repairs is wise for many reasons. A functioning, waterproof barrier on your home protects everything under it. It reduces your overall maintenance costs. It lowers the cost to heat and cool your home. The aesthetic and market value of your home improves. It's most important to be proactive about your roof to prevent extensive damage down the road. By the time you can see the signs of water damage inside your home; you have a major problem on your hands. For the most part, the path of destruction taken by a roof leak is hidden. It takes a qualified, experienced Burke roof repair contractor to determine the actual source of the leak and stop it in it tracks.
For more information regarding building and development in the town of Burke; visit their area government website at www.fairfaxva.gov.
Serving the following zip codes: 22015, 22009
Our Complete Range of Roofing Services in Burke, VA include:
Leave Your Comments
Read Ratings & Reviews Posted By Homeowners in Burke Virginia, VA for Roof Repair & Installation
15
user reviews with an average of .
Total of
Leave Your Comments
Recent Free Roofing Estimates Requested from Roofer911
Type of Service:
Date Submitted: Monday, August 6, 2012 - 8:41 AM
City: Burke
State: VA
Customer Type:
Description: During the storm last night we noticed a leak in the doorway between our kitchen and the extension that was added in 2004. It stopped after the rain but we need to find out what the issue is.



Type of Service: Roof Repair, Not Emergen
Date Submitted: Thursday, December 22, 2011 - 10:22 AM
City: Burke
State: VA
Customer Type: First Time Customer
Description: front side of house roof is damp on the sheathing with mold, need to get an estimate of structure of sheathing before moving on to mold remediation.



Type of Service: Roof Repair, Not Emergen
Date Submitted: Monday, December 5, 2011 - 8:55 AM
City: Burke
State: VA
Customer Type: First Time Customer
Description: I have some damage of the sub roof in the attic above my garage. Some water has come through. The flashing on top of my chimney is also a concern. Thanks



Type of Service: Gutter Repair
Date Submitted: Thursday, December 1, 2011 - 8:41 AM
City: Burke
State: VA
Customer Type: First Time Customer
Description: My north gutter is sagging and is pulling away from the house. I'd like to have the problem corrected before it causes more damage. I am looking at estimates and if you are interested, please call me!



Type of Service: Roof Repair, Not Emergen
Date Submitted: Saturday, October 29, 2011 - 5:02 PM
City: Burke
State: VA
Customer Type: First Time Customer
Description: Have dormer windows on top floor. Inside wall underneath dormer on first floor has water stains on the ceiling and the carpet is wet at the base- think water may be getting in through the dormer and seeping down the wall.