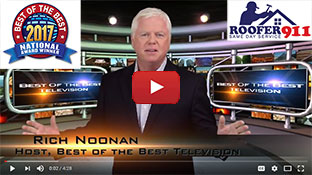 Arlington Roof Repair
SUPERIOR WORKMANSHIP AND GUARANTEED SATISFACTION!
Common Services
in Arlington


| | |
| --- | --- |
| | |
| Our roofing troubleshooter repairing a roof in Arlington. | |
| | |
| Our highly sensitive infrared camera detects an active chimney leak due to the chimney flashing being installed incorrectly. | |
| | |
| Same day emergency roof repair service, 7 days per week including holidays. | |
| | |
| We screw our gutters into the rafters to prevent sagging or falling off and pitch properly to insure a positive water-flow to the drain. | |
| | |
| Roofer911 workers installing a new roof in Arlington, VA | |
Arlington is a spectacular place to live, and the site of some truly American cultural and historical sites. Many people choose to purchase homes here, not only for that, but for the beautiful weather. But even in a good climate you need to pay attention to home maintenance issues, including roof repair.

We get on average, 201 sunny days a year. Overall, it is wonderful weather but did you know that UV rays from the sun can literally destroy your roof? While you are basking under cheerful skies, your roof is taking a beating. Shingles and roof sealants are manufactured with adhesives that break down and evaporate just from exposure to sunlight. Without proper care, eventually your roof will lose its resistance to water and wind. That means big trouble for the rest of your house. Water damage is very costly to repair.

The Rain

We get our share of rain here for sure – about 44 inches annually. In addition, 7.2 inches of snow falls in the winter on average. This amount of precipitation adds to the wear and tear on your roof. Once you have hairline cracks in the roofing materials, rain water can enter. As it comes into contact with the internal structure of the house, it destroys everything in its path. Wood, metal, drywall, paint and insulation are not designed to withstand high moisture levels. In the cold weather, your roof will leak from melting snow if your attic is too warm. Along with the actual structural damage to the house, you run the risk of inviting black mold to grow, which can be deadly to the people living in your home.

Roof Repair or Replacement

You are probably asking yourself, "How much is this going to cost me?" This is a normal question. Your home may be the biggest financial investment you ever make, so you have every right to be concerned. That being said, the problems with your roof are not going away. They will only get worse and the cost to fix a serious water damage situation will shock you.

The best course of action when dealing with your roof is to talk with our experienced roofing contractors. We'll inspect your roof for free and determine what needs to be done to make it watertight. It may only need a few patches to make it last several more years. It may need to be completely replaced if more than a third of the surface area is damaged. Either way, you get the peace of mind knowing that the roof above your head is going to keep the rain out of your home. It will also helps to keep your energy costs in check.

What am I paying for?

When we do any type of roof repair in Arlington, you are getting the assurance that your roof will never leak in that spot again. We like to say that the rest of your house could crumble and fall, but our repairs will remain intact! Ultimately, we are providing a safe living environment for you and your family, while reducing your maintenance costs. A solid roof increases the market value of your home and improves its curb appeal.

The sun, rain, hail, wind and temperature changes are here to stay. From the moment a new roof is installed, the elements begin to attack it. Sooner or later you'll need to give it some TLC. Roof repairs done in a timely manner are less costly that replacing it, and can add another five to ten years to the life of your roof.
For a help and information regarding the city of Arlington Virginia; you may also want to check out their government website; http://www.arlingtonva.us.
Endorsement by Jack D. from Arlington who expressed his feelings about the roof repair service we provided for the late Sue A. who was an absolutely wonderful person. Our sincere thoughts and prayers are with her.
Serving the following zip codes: 22201, 22202, 22203, 22204, 22205, 22206, 22207, 22209, 22210, 22211, 22212, 22213, 22214, 22215, 22216
Our Complete Range of Roofing Services in Arlington, VA include:
Leave Your Comments
Read Ratings & Reviews Posted By Homeowners in Arlington Virginia, VA for Roof Repair & Installation
27
user reviews with an average of .
Total of
Leave Your Comments
Recent Free Roofing Estimates Requested from Roofer911
Type of Service: Roof Repair, Not Emergen
Date Submitted: Tuesday, March 1, 2016 - 6:25 AM
City: Arlington
State: VA
Customer Type: First Time Customer
Description: Steve, We spoke this morning and set an appointment between noon and 3pm for tomorrow, March 2. We have what appears to some leaking between the roof over a bump-out and the wall of our townhouse, and would like to have it diagnosed and repaired as needed. Thanks for taking my call this morning. Phil



Type of Service: Roof Repair, Not Emergen
Date Submitted: Tuesday, February 25, 2014 - 7:12 AM
City: Arlington
State: VA
Customer Type: First Time Customer
Description: Tree damage to corner of house and detached garage. Would like an estimate please.



Type of Service:
Date Submitted: Sunday, April 21, 2013 - 9:03 AM
City: Arlington
State: VA
Customer Type:
Description: Small section (2' x 4') of asphalt shingles was sheared off by high winds - substrate is exposed



Type of Service: Roof Repair, Not Emergen
Date Submitted: Wednesday, May 9, 2012 - 12:48 PM
City: Arlington
State: VA
Customer Type: First Time Customer
Description: Some tree branch damaged some tiles on the roof. If you are facing the house, some of the tiles on the left, front portion of the roof are damaged.



Type of Service: Emergency Roof Repair
Date Submitted: Monday, April 30, 2012 - 6:54 AM
City: Arlington
State: VA
Customer Type: First Time Customer
Description: No one currently at the house.The house is at the intersection of Harrison and 18th. The shingle problem will be obvious on the left side of the roof. Thanks