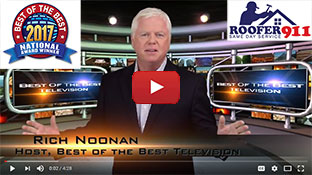 Roof Repair Annandale
SUPERIOR WORKMANSHIP AND GUARANTEED SATISFACTION!
Common Services
in Annandale

| | |
| --- | --- |
| | |
| Our highly sensitive infrared camera detects wet insulation trapped inside the exterior wall from ice dam and heavy rain. | |
| | |
| Remove and replace old chimney flashing to prevent further leakage. | |
| | |
| Emergency roof repair service to replace missing roof shingles due to strong winds. | |
| | |
| Attic fan installation to keep your home cool in the summer and to extend the life of your roof. | |
| | |
| Vinyl siding repair with same matching color and manufacturer. | |
What does your favorite hat have to do with roof repair on your Annandale home? If you have a favorite hat, you probably wear it every day (all day) especially when you are outside. Rain, snow, wind, hail and sunshine - your hat shields you from all of it. Your roof is the "hat" on your house, and it takes on the brunt of everything Mother Nature can throw at it.

Eventually, even a really good quality hat wears out, just like a roof. A small tear here and there is all it takes to get wet when suddenly it rains. You wouldn't think twice about going and getting a new hat, so when you need roof repair or replacement, why wouldn't you get it done immediately? There are a whole host of problems that can arise when you don't maintain your roof.

The Weather and Your Roof

Annandale is a beautiful place to live. It has a rich history and an amazing culture. It also gets more rain than most other U.S. cities. On average, we receive 44 inches of rain per year - a full seven inches more than our neighbors. We also get an average of seven inches of snow. Water and your roof are like opposites on the spectrum. Too much dampness promotes rot and can lead to long-term and very costly damage to your home. Consider all the materials that went into the construction of your home. If they get wet they deteriorate, rust, break down or disintegrate. Wet insulation does not rot but it loses R-value and become a breeding ground for toxic black mold.

As professional roofing contractors, it is our job to not only repair your roof, but to ensure the long-term survival of your roof. Your roofing system works non-stop, 24/7, and it needs to stand up to a lot. Even sunshine takes its toll. It breaks down the adhesives in the roofing sealant, turning your roof into a sponge when it rains.

Age and Cost

As a home owner, the first question you might ask when you are considering roof repair is, "How much is this going to cost"? You may wonder, "Should I fix my roof, or should I get a new one?" These are great questions to ask because there is more to it than repairing a few holes or replacing a section of shingles. What about the water damage and mold problem that may have been developing for months or years? There is a much bigger picture to think about.

Roof leaks can lead to a host of problems inside your home, many of which you don't see until it is too late. The older the home, the older the roof probably is. The older the roof is, the greater the need for roof repair. Roof leaks can be very small at first, but 44 inches of rain in one year, dripping through a small hole, can lead to major problems down the road. It's our job to seek out and remove the obvious and the hidden problems that threaten the integrity of your home.

Should you or shouldn't you?

It is never easy to face a major renovation cost, but when you are dealing with roof issues in the Annandale climate, it is not something to delay. If more than a third of your roof requires repairs, it might be time for a new one. Otherwise, regular roof inspections and roof repairs will add years to the life of your roof, keep it looking great and add value to the market price of your home.
For more information regarding the city of Annandale VA; please visit www.annandalevirginia.com. Call today, you'll be very please you did!
Serving the following zip codes: 22003
Our Complete Range of Roofing Services in Annandale, VA include:
Leave Your Comments
Read Ratings & Reviews Posted By Homeowners in Annandale Virginia, VA for Roof Repair & Installation
13
user reviews with an average of .
Total of
Leave Your Comments
Recent Free Roofing Estimates Requested from Roofer911
Type of Service: Gutter Repair
Date Submitted: Thursday, December 12, 2013 - 9:06 AM
City: Annandale
State: VA
Customer Type: Repeat Customer
Description: The gutter seems to be coming apart from the roof. There was a leak in the bedroom upstairs above the window.



Type of Service: Gutter Repair
Date Submitted: Monday, December 9, 2013 - 8:49 AM
City: Annandale
State: VA
Customer Type: Repeat Customer
Description: Gutter seems to be sagging on the right side. May also be partially detached from the roof.



Type of Service:
Date Submitted: Monday, September 3, 2012 - 4:16 AM
City: Annandale
State: VA
Customer Type:
Description: it seems the recent storms have created a small hole in the our roof. The leak seems to be smaller then a pencil, but when it rains hard like last night, the water can really drip in. We noticed water actually dripping in through a light in the hall way, I climbed into the attic and was able to see a steady drip coming through the roof. I would consider this a minor repair but as the storms have been pretty strong lately it is something we need fixed fast. Also, do you guy have anything to do with rain gutters? While someone is up on the roof we could use some rain gutter straightening and tightening. It looks like our rain gutters were not tight enough to handle the high volume of rain. Please contact me this AM if possible. I know it is Labor day, but I'd like to be around if you can send someone out. thanks. Ryan