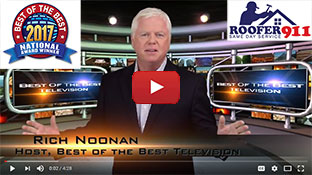 We Proudly Accept
Testimonial
What People Say About Us
I placed a request for a roof repair on Roofer911.com I got a call back in ten minutes and they get out there that same day. I had a quote with pictures and detailed description of the repair and it was fixed in the same day. Roofer911 was an absolute pleasure to deal with. They fixed my roof in an extremely timely and professional manner for a fair price. Other roofing companies were more interested in trying to sell me a new roof over the phone and not interested in a my small repair job. I highly recommend Roofer911.
Dave Edstrom
business
Ashburn, VA
May 7, 2010
0.3
Roof Repair
With our 44 years experience in roof repair along with infrared
technology we guarantee to "STOP ANY LEAK" no matter how difficult!
| | |
| --- | --- |
| | |
| With our highly sensitive infrared camera we are able to locate leaks no matter from the roof, gutters and windows. | Moisture test performed to verify if the drywall and insulation needs to be removed and replaced to prevent mold development. |
No matter what type of roofing project you may need for your home, getting the most savings and the best service is crucial to its success and your happiness. And that all starts with hiring the right roofing contractor for the job. Roofer911 is the premier roofing repair service in North Virginia with over 40 years of experience in the roofing industry, performs same day roof repair and uses infrared scaning equipment and moisture meters to find hidden leaks so they can be fixed quickly and permanently. Call Roofer911 at (703) 475-2446 for your free, no obligation estimate today and find out why we are the best roofing company in Northern Virginia.
| | | | |
| --- | --- | --- | --- |
| | | | |
| Very often we see holes in the roof after the wood planks were removed. | Improper installation of roof shingles around stack pipe flashing. | Three tab roof shingles missing due to strong wind winds. | Replace damaged step flashing and then reshingle to prevent further leaks. |
| | | | |
| Roof leak found because of roofing nails exposed in skylight flashing. | Improper fastening procedures of an architectural shingle roof. | Bumpout window leaks most often occuring during wind-driven rains. | Ridge vents usually leak during heavy rain or wind-driven rains. |
Common Roofing Repair Problems
There are many reasons why your roof might leak and you'll need to call for an emergency service. Just because a roof leak appears in one location inside of the structure, doesn't mean it came from that location. Water seeks its own level so that if a leak occurs at the top of the roof, it could run down the interior of the structure unexposed long before it shows itself as a puddle on your floor. That's why at Roofer911, we use handheld infrared scanning devices to help find hidden moisture damages that lie under roofing materials, covered from the naked eye. With the right tools, technology and experience, you can be sure Roofer911 is going to solve your roofing problems quickly, efficiently and affordably.
If you have any roofing problems or leaks, these common roofing problems may be the culprit:
Damaged pipe flanges
Improperly installed ridge vents
Storm damage
Clogged/improperly pitched gutters
Nail pops
Holes in roof from scaffold planks.
Improperly installed valley Flashing.
Roof flashings.
Improper positioning of roof nails on an architectural shingle roof.
Damaged Step flashings along walls
Skylight flashing leaks
Condensation Build-up
Standing snow
High winds
Ice dam
Built up leaf debris and much much more!
Other Outside Sources that Are Most Often Blamed on The Roof.
Sometimes, roofing leaks aren't roofing leaks at all—they are siding or window leaks. In some cases, heavy winds can blow water inside of damaged siding and create the appearance of a roof leak. When peeling, cracking, slipping or missing siding is allowed to deteriorate on your home's exterior walls; it can cause severe structural damages. Windows that are improperly sealed or installed can easily leak as well.

Chances are, if you have a gutter system that hasn't been cleaned in the last six months, it might be the cause of future roof leaks. Many emergency roof leaks turn out to be caused simply by leaf debris built up in the gutter system. When gutters are allowed to clog and the water has nowhere to go, it may end up going behind the siding of your home. Even if you're gutters are regularly maintained, if they have the wrong slope they can be a continual source of water damage inside and out of the home every time it rains.

Call Roofer911 today for your Free no obligation estimate at (703) 475-2446 and we will send a qualified roofer to inspect your home so your roof leak can be fixed the same day, before bigger problems have a chance to start.
For information about Virginia Build Codes and rules and regulation please visit: http://www.dhcd.virginia.gov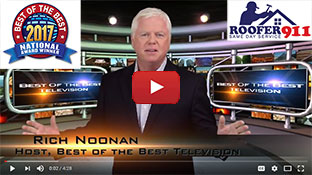 We Proudly Accept
Testimonial
What People Say About Us
Roofer911 quickly respond to our call. We called with a concern of possible chronic, slow leak. Roofer911 was willing to come on a rainy day and look at the situation even though we were not 100% sure that the leak is still present. It turns out that Roofer911 found several problems that two previous roofers did not detect. The issue was fixed on the same day, and there has been no problem since. Roofer911 also gave great assurance with 1-yr warranty.
Peter Pianoto
business
Gainesville, VA
August 28, 2009
0.3