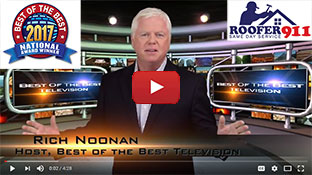 We Proudly Accept
Testimonial
What People Say About Us
We have always been satisfied with Roofer911 - they're fast and efficient!
Rick Fisher
business
Chantilly, VA
March 4, 2011
0.3
Avoid Paying Contractors With No Credibility - Roofer911.com

Once you are certain you are hiring a reputable roofing contractor with the appropriate state license and insurances, you'll want to know how to pay for your new roof. There are plenty of horror stories out there, where home owners have been asked to hand over cash to get a better "deal." They are told the roof replacement is guaranteed despite having no contract. When the crew fails to appear on the scheduled start date, the homeowner discovers the contractor's phone number has been mysteriously disconnected.
There are other scams that happen to unsuspecting people that are not familiar with using a contractor for a major job. Just as in the first scenario where they paid cash, they are asked for a check written for the full amount upfront. The contractor disappears never to be seen again. There is also the scam where the crew shows up and installs the roof. The new shingles look great until the next big wind storm occurs. After a night of gale-force gusts, the homeowner awakens to find his roof spread out over the lawn. Why? Because the "low-priced" roofer cut back on materials costs by neglecting to use roofing nails. Or, they have not used the roof nails with the recommended length. Once again, they cannot be located. The home owner is forced to pay out of pocket to repair the damage.
We Give You Peace of Mind with 100% Financing
We at roofer911 want to assure you with the peace of mind in knowing we are a reputable roofing company with over 40 years in business. You will be shown proof of our credentials before the job starts. Your contract explicitly states what we will deliver for the money you pay. We put forth a great deal of effort to help you understand and prepare for the process of a roof installation. The last thing we want to do is have you feel uncomfortable about the payment. Should you have a concern about how to pay for the work when immediate funds are not available to you, we can offer 100% financing.
Your Satisfaction is Guaranteed
We request 1/3 of the contract amount upon arrival to cover the cost of the roofing materials. We ask for the balance only upon completion and when you are satisfied with your new roof. We accept all major credit cards.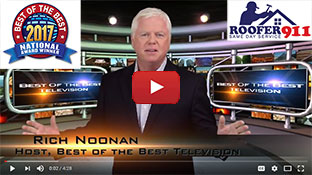 We Proudly Accept
Testimonial
What People Say About Us
We really appreciated the fine service of Roofer911! Steve Briesemeister was courteous, considerate, knowledgeable, and patient in answering all my questions. With the infrared scanning, we feel confident that we have finally addressed the leaks in our roof. We would recommend Roofer911 to anybody!
Christine Cintron
business
Great Falls, VA
December 17, 2010
0.3