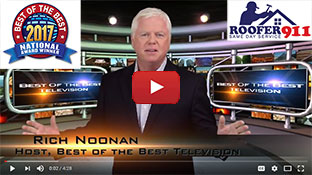 We Proudly Accept
Testimonial
What People Say About Us
Prompt and professional service that explained exactly what needed to be done and did it. Highly recommend!
Randy Nixon
business
Ashburn, VA
April 29, 2013
0.3

Loudoun County Roof Vent Pipe Leak Repair
Same Day Service All Leaky Vent Pipes
Hi, This is Steve from Roofer911, we specialize in all types of roof repair in Loudoun County Virginia. Now when you at these two photos, this a normal view photo that I took of the roof above the area where they had the leak inside there home and this is an infrared photo that shows the leakage underneath the roof in the area where they had the leak. Now, the homeowner was getting estimates from other roofing contractors in Loudoun County to remove the roofing material around the stack pipe and also around the vent pipe that's down below this gentleman leg down to the flashing and then they were going to install Ice and water Shield and then re-shingle that area. When I looked at the flashing, the overall fastening procedures of the roof shingles around both pipes was done perfect so I wanted to go inside the attic to see how much they cut the breathing space underneath this Cobra Ridge vent and sure enough they cut it way to much, it was a 5" open breather. So what's happening is during a heavy downpour, melting snow or a driving rain towards the back of the home the water is curling up underneath the roof shingles and then is finding an opening at both of these pipes.
Now, when you look at this infrared picture, it shows very clearly why the leak is coming from the ridge vent and I'll explain why. Now the yellow, that's all dry plywood, that good. Where you see the blue, that's wet, where you see the blue around the stack pipe which is on the backside that's all wet as well and it's going all the way up to the top of the ridge. As I said, the water is going up underneath the ridge vent. So what we need to do is take off the cap shingles and then we're going to install a new ridge it's going to be the Shingle Vent 2 and it's plastic and is very wide but we need to close off that 5" breather and instead make it 3" and we'll put new plywood on both sides and then install a new Shingle Vent 2 and then new cap shingles and we're not going to do any work around either one of these pipes even though the leak is directly below both of them, neither one of them are the source of the leak.
Browse other blogs by keywords:
0 Responses to "Loudoun County Roof Vent Pipe Leak Repair "
Speak Your Mind!
Tell us what you're thinking...
and oh, if you want a pic to show with your comment, go get a gravatar!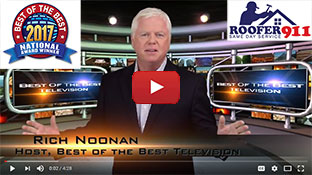 We Proudly Accept
Testimonial
What People Say About Us
They truly did a great job. We called and 20 minutes later they showed up and gave a quote/proposal with photos and recommendations. Once we approved the work the crew showed up an hour later and fixed the emergency issues. They definitely lived up to their name of Roofer 911! Highly recommend the work!
Kathryn Cullen
business
springfield, VA
May 18, 2010
0.3