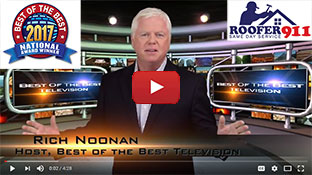 We Proudly Accept
Testimonial
What People Say About Us
We had a great experience with Roofer911, and the service was outstanding. The communication was great, and we always heard back about any questions in no more than 30 minutes, which is really amazing. Once we settled on what we needed done, we had workers out the very next day, and they finished everything and cleaned up on the same day. We will definitely use roofer911 for any future issues.
Evan Jones
business
Springfield, VA
February 7, 2011
0.3
Professional Infared Leak Detection for Only $99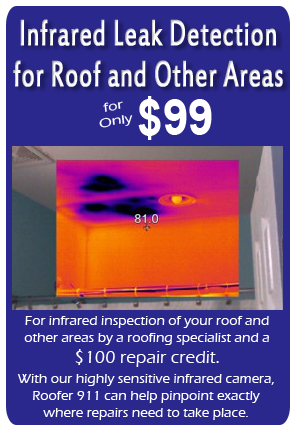 Roofer911 is a highly rated roof repair service provider. We know the stress and cost involved with a leaky roof. You don't have to suffer for another minute. Using state-of-the-art infrared equipment, we'll scan your roof and pinpoint exactly where leaks are a threat to your home.

Save time, money and wear and tear on soggy areas of your insulation, walls, and more
Roofer911 has 42 years of experience
This offer includes: $99 ($325 value) for an infrared leak detection of existing or hidden roof, attic, or between wall space.
Why you need this deal: Even though water seeks the path of least resistance, it can still be very tricky to find the source of a leak in your roof or other areas of your home. With their high-tech infrared camera, Roofer 911 can help pinpoint exactly where repairs need to take place. Roof leaks can be hazardous to your home. Causing interior and exterior water damage. This could open the door for mold and mildew.
The leaks start when your roof is exposed to harsh weather or any type of contact with debris. Hail storms can leave small holes in your shingles, allowing water to make its way into your home! This will result in water damage and higher energy costs.

Insurance companies hate us: Were you aware that insurance companies will only cover roof leak damage that is visible to the naked eye? You and I both know that water can go anywhere, including inside the walls, ceilings and floors. In the past, home owners were forced to pay thousands of dollars in water damage repairs, but not anymore. Now with our infrared cameras we can take pictures of the interior structures of your home that reveal the damage. Now the insurance companies MUST pay up!

Why are roof leaks so horrible?

• The water trickles into the upper walls and soaks insulation.
• Water can make its way to every inch of your home.
• The only way to repair the damage is to rip out the walls.
• Water will rot your homes structure.
• Wet wood and insulation are a breeding ground for mildew and black mold; this will make you very sick, can even be deadly.

With this offer you can rest assured knowing your roofing issues are solved.
At your service,
Steven Briesemeister,
Owner, Roofer911

The Fine Print
Offer may be used from December 1st, 2014 to March 1st, 2015. Inspections must be scheduled within this time.


• Not valid for cash back
• Coupon cannot be combined with other specials or offers
• Coupon cannot be applied to current or past jobs
• Appointments are to be performed during normal business hours
• Normal Business Hours are 9 am-6 pm (Eastern Standard Time)


---
Customer Reviews:
Shyaam Sundhar Sajamadam Srinivasan
Brambleton, VA
September 18, 2014

Roofer911 is beyond awesome. Steven came in and checked every possible issue with his instruments and experience that he has goes beyond anyone I have seen. He found things that are exactly what the builder agreed on after seeing his report. The report is concise and self-explanatory (pictures worth a billion words) and definitely someone whom I can trust and recommend to my circle of friends. My neighbors and others I know have already called and would also be calling Roofer 911 in the future. This is awesome!

Steven did a step by step analysis from the basement to the top floor and climbed up on the roof as well. The experience he has is the value more than the gadgets, since if you have a million dollar gadget and don't know what you are looking at and/or where to look for issues, it is worthless. Roofer911 is a great combo of experience and equipment. We also liked the simple style of explaining whatever he saw and how he was confirming whether or not it was a leak or an air flow due to bad insulation in the corners or up top in the roof is the best part. Not many experienced people know how to communicate and now many people know how to use their gadgets at the right places or what the customer is exactly looking for. All in all, Steven went through every nook and corner and found leaks that wouldn't have been found otherwise and all his theories and documentation were confirmed by the builder who is now fixing it. This happens in a brand new home that was just built and closed less than a month ago, in my case. So you can imagine, what would have happened if I had not gone through the inspection, assuming that it is a brand new home. Mistakes are common across all builders be it the most expensive to the least expensive, especially because builders are competing for numbers and wrap up homes in couple of months with any sub-contractors who bid for the cheapest price. I am sure that you are experiencing the same and I would definitely recommend Roofer911 if you have a home with a roof (be it new or old).

Company Response:
It was my sincere pleasure to be able to help you in every way possible to ensure that your new home would be nothing but 100% waterproof. Thankfully, your builder is willing to make all the necessary corrections, which is very uncommon nowadays. If I can be of further assistance, please do not hesitate to give me a call. Thanks again, Steven
| | | | |
| --- | --- | --- | --- |
| Leak inside kitchen from the roof | Missing insulation inside wall, attic | Leak inside wall from gutter | Multiple roof leaks from valley flashing |
| | | | |
___________________________________________________________________________________________________________________________________________________________

David Lawrence
Great Falls, VA 22066
September 25, 2014




Examined the roof from the outside and performed an interior infrared exam designed to detect any water leaks no matter how small.

I was certain I had a roof leak this morning - heard water and had a water stain on the ceiling - so I called Roofer 911. Steve arrived, and after examining the evidence - the ceiling stain and his infrared scan - he gave me the good news that I didn't have a roof leak (it's a plumbing issue, which unfortunately Steve doesn't handle). Since I have a nearly 20 year old roof, I asked Steve for a quote on replacing it. Based on the infrared scan inside and his examination of the roof outside, he told me that my roof is fine and doesn't need to be replaced yet. It was important to him to give me an honest answer, even though he didn't make a dime from doing so. There is nothing more valuable than a man with integrity - and Steve has it.

Company Response:
Thankfully you do not have a roofing issue but instead a leaky faucet which will be very inexpensive to repair by a qualified plumber. Thanks again, Steven
___________________________________________________________________________________________________________________________________________________________
Jane Baker
Reston, VA 20191
March 5, 2015

I called on Monday to see if Roofer 911 would help me find the cause of some water issues I was having. Water was leaking into the wall at both lower corners of a large picture window located along the roofline of a vaulted bedroom ceiling. Steve arrived Tuesday morning and used his infrared leak equipment to locate the cause of the problem. He was extremely thorough taking readings and pictures both inside and outside the house. He even climbed up into an adjacent "crawl space" so ensure there was no issue up there as well. He confirmed that the issue was not a roofing problem but rather condensation on the window getting into the wall at the corners of some new plantation shutters recently installed. A new window has now been ordered to take care of the condensation problem. I am extremely grateful for his professionalism and accommodation in determining the problem and recommending a solution. I highly recommend Roofer 911. I will use them again as needed. What a great company.

Company Response: Being that your home only leaks in the winter and never while raining or snowing I knew instantly that you were experiencing a condensation problem and not a roof or window leak. Once the window is replaced and the areas of missing/damaged insulation in the attic is corrected your condensation problem will be a thing of the past. We greatly appreciate your business!
___________________________________________________________________________________________________________________________________________________________
Denise B.
Ashburn, VA 20147
March 8, 2015

The service I received was excellent. Steve, the owner, contacted me almost immediately after putting out my query for work to be estimated. He scheduled for the next morning and kept in touch on where he was, when he would be here and when the work could be performed. Steve was extremely friendly and informative. The infrared system that he uses to identify leaks and issues is an excellent tool. It would work for not only leaks but for understanding what else is going on behind the walls in the house. He identified the leak issues (roof vent) and another issue which had not yet become apparent with the skylight. The scan showed not only water issues but insulation issues as well. (something else I will need to take care of in the future). Steve provided a fully written estimate along with a detailed description of the work that would need to be done. The difference that was apparent is that he wanted to fix the entire issue for the long term and not just do a patch. To me, that was very important as roofs are expensive and I want to make sure that the roof lasts a long time. After discussion, we scheduled the work which included reseating of the roof vent and repairing around the skylight for that same day. Steve's team showed up about an hour later and got right to work. "June" let me know what was happening, kept the team working and the work was complete before I knew it. Yes it took several hours in total but that was still less than I expected given the amount of work that needed to be done. The crew cleaned up the premises to better than they left, they checked out the entire roof, sealing anything else that might be a problem. they even cleaned out the gutters and reconnected the gutters to the house. As a bonus, I had an issue with a casing on a wall unit heating/air conditioning unit and they refastened that for me as well. When complete, "June" again walked me thru what they had done, let me know how things looked up on the roof and let me know that I should be able to get at least another 10-15 years out of the roof. That was good to know and a huge relief as a home owner. As soon as they left, Steve called to make sure I was happy with the service. Clearly I was. It is a huge relief to know that the literal 'roof over my head' will be there for quite awhile longer. I would definitely recommend Roofer 911, Steve and team. They clearly go the full mile and way more to support their customers.
Company Response: It was such a pleasure to meet you and to be of service. Not only did you have roof leak issues that was clearly the result of improper fastening procedures of the roof shingles around roof vents and skylights but also with the infrared I was able to detect which rooms of your home are cold in the winter and warm in the summer because of missing and/or damaged insulation. We greatly appreciate your business! Thank you, Steven
| | |
| --- | --- |
| Missing insulation around ceiling fan | skylight leak |
| | |
__________________________________________________________________________________________________________________________________________________________
Margaret Foskey
Alexandria, VA 22309
March 10, 2015

Repaired problems that caused leakage in the roof of my house. The problems were clearly identified and explained to me. I had filed a claim with my insurance company, and while they found one of the problems that was causing the roof to leak, they did not find everything. Roofer 911 did and took the necessary steps to fix all of the issues. They completed the work the same day. For the first time in a while, I did not hear any dripping during last night's rain!
Company Response: Your ridge vent is what caused the bulk of the water damage inside your home but also the HVAC heating air duct was venting warm air into the attic instead of out through the roof. Thankfully your home is now 100% water-tight and also consider yourself extremely lucky you did not develop mold from condensation build-up. We greatly appreciate your business! Thank you, Steven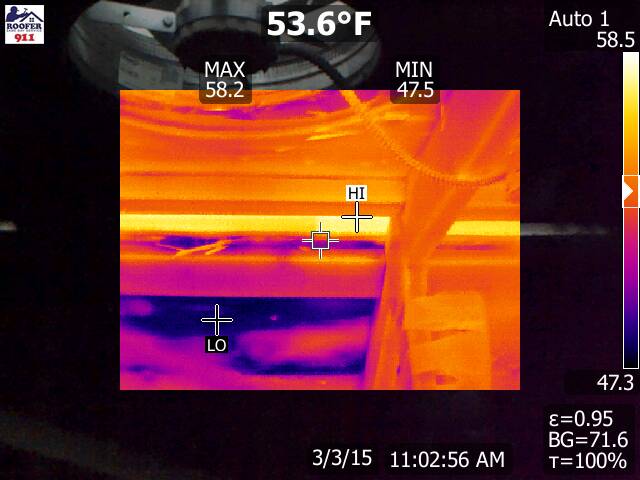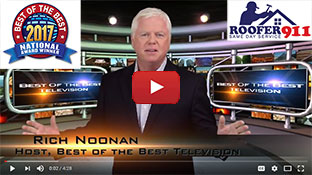 We Proudly Accept
Testimonial
What People Say About Us
Steve responded immediately to our inquiry--he was at our house within 20 minutes of our call and was able to provide an estimate for roof repair and gutter repositioning within minutes of his visit. When we contacted him to let him know we wanted him to do the work, his crew was here the same day. They were thorough and professional. Also, the fact that we were able to receive the proposal and sign the contract electronically was so convenient. Would highly recommend Steve's company, Roofer911, to anyone.
GM Settles
business
Alexandria, VA
May 22, 2010
0.3