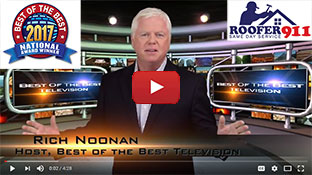 We Proudly Accept
Testimonial
What People Say About Us
I'd like to thank you and your crew for the outstanding work that you provided this week. Discovering water leaking into my living room was an unpleasant experience to say the least. But thanks to your expertise and quick response, the source of the problem was identified and fixed, same day! I really appreciate your thorough explanation and advice, and the way that you conduct business in such a professional manner. Your crew was equally as impressive. I'd recommend your services without hesitation to anyone facing water issues -- in fact I have already recommended Roofer 911 to a colleague of mine.
Joe Debole
business
Reston, VA
May 20, 2011
0.3
Ice Dam Prevention
IS YOUR PROPERTY AT RISK? ACT NOW!
How Ice Dams Form?
An ice dam is a ridge of ice that forms at the edge of a roof and prevents melting snow (water) from draining off the roof. The water that backs up behind the dam can leak into a home and cause damage to walls, ceilings, basement, insulation, and other areas.
For ice dams to form, there must be snow on the roof and higher portions of the roof's outside surface must be above 32° F while lower surfaces are below 32°F. For a portion of the roof to be below 32°F, outside temperatures must also be below 32°F, and the temperatures must be sustained over a significant period of time. Roofs with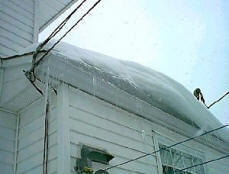 large surface areas exposed to the sun and having small run-off areas are prone to ice buildup. A classic example is a roof with several gables or dormers. Very heavy snowfalls also can create problems: a foot or more of snow on a roof combined with warm winter temperatures can warm the roof and cause snow melt and ice on eaves.
The snow on a roof surface that's above 32°F melts, and as the water flows down the roof, it reaches the portion of the roof that is below 32°F and freezes, making an dam.
As the dam grows, it is fed by the melting snow above it, but will limit itself to the portions of the roof that are on average below 32° F. The water above backs up behind the ice dam, remains a liquid, and finds cracks and openings in the exterior roof covering and flows into the attic space. From the attic it can flow into exterior walls or through the ceiling insulation and stain the ceiling finish.
Ice Dam Prevention:
We start by adding a waterproofing membrane along eaves, valleys or behind gutters. These are high-risk areas for leaks; valleys due to improper flashing installation and eaves because of ice dams. We used a thick, bituminous material with an adhesive backing. The membrane protection provides extra protection against water penetration and is also required by code in "Snow Belt" states at the eaves.
We take every precautionary measure when dealing with the elements and it's good insurance against problem gutters or leaky roofs. Avoid aggravation and expense by taking a few preventative measures:
Keep the attic well ventilated. The colder the attic, the less melting and refreezing on the roof.
Keep the attic floor well insulated to minimize the heat rising through the attic from the house.
Install a water-repellent membrane under your roof covering.
Ice dams may be unavoidable if your home has recessed lighting near the roof. Heat from these lights melts the snow, which causes ice dam buildup. To avoid this, eliminate recessed light fixtures near the roof.
How Can I Prepare for an Ice Dam Disaster?
To learn more about ice dam and ice dam removal or to post a question or comment please visit our blog at /roofing-blogs/Ice-dam-removal-prevention.htm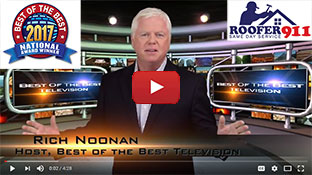 We Proudly Accept
Testimonial
What People Say About Us
Steven was very accommodating. His crew were very professional and explained in detail what happened to our roof and what needed to be done to get the problems fixed.
Yong Hang Jiang
business
Alexandria, VA
November 17, 2011
0.3